Studio Rates
All recording rates include an engineer. 25% deposit required upon booking.
| | |
| --- | --- |
| Music Services (Recording, editing, mixing) | $50.00/hr |
| 10 Hour Block Rate | $400.00 |
| Project Rates | Please Contact For a Quote |
| Digital Mastering | Please Contact For a Quote |
| Live/On-Site Recording | Please Contact For a Quote |
Note: Cancellation must be made at least 24 hrs prior to booking – failure to do so will result in the deposit being charged.
Let's face it, choosing a recording studio is no easy task. With the greater variety of less expensive, high quality recording gear on the market these days, you have a number of options in front of you. So where should you go? Who should you trust? If you're concerned with quality, both in terms of the overall sound of the recording, as well as the material being recorded in the first place, Studio A  Audio Recording & Production should be your first choice.
"After working on our first album with Chris and Studio A, we at Eclectic Revival were chomping at the bit to get back to recording our second album. We had never worked with a more talented and thorough sound engineer before when we completed our first album, so we were equally excited to go back for round two. Chris's talents and capabilities far exceeded our expectations, and so we look forward to working with him on future projects."

Chris Reed – Eclectic Revival
At Studio A Audio Recording & Production, we believe that truly superior recordings are the combined effort of great material being performed by talented people,and captured by skilled professionals.  We'll help you combine both to achieve the end result of truly superior recording.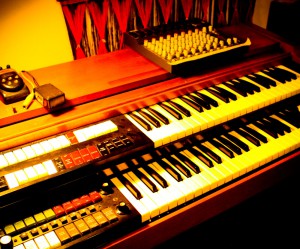 So how is that accomplished? First of all, we'll take the time to assess your needs and abilities. What is your purpose for recording? This determines the overall complexity and quality of the production you undertake. Do you require additional arrangements such as drum/sample programming and/or session musicians? How proficient are you when it comes to performing? Do you all know your parts? How experienced are you in a studio environment? What condition are your instruments in? Answers to these questions will determine your readiness to record. If you commit time in the studio before you're completely prepared, you are simply wasting that time and money. Second, it helps determine just how much you should spend in order to get the maximum value out of recording. We'd rather you spend half as much money recording two or three songs really well than waste money on a poorly planned, immature recording that will take you nowhere. If you're ready to record, call us to discuss your project.  You'll have our commitment to make your recording the best it can be.
Common music applications include:
Band demos, self-produced EPs, and radio-quality, full length albums for independent recording artists
Audio mastering
Audition recordings for small to mid-sized acoustic ensembles and instrumental soloists
Karaoke-style or a cappella vocal demos