Founded late in 2008, Studio A Audio Recording & Production was born with the purchase of the recording and production interests of Studio A-Mirador.  The former Studio A-Mirador proudly served Southwestern Ontario for 15 years, and Studio A Audio Recording & Production builds on that success with their continuing commitment to the creation of truly superior recordings.
"Chris is very apt at his craft and executes his talents in a very formidable way. He is very personable and easy going… nice characteristics in this sometimes hectic and demanding world. I look forward to our next project together."
Bill Dove – Creative Director & Producer, Wings Productions
Specifically designed and built in 1995 as a professional audio recording studio, Studio A Audio Recording & Production provides you with a comfortable atmosphere in our spacious 2000 square foot facility. Our large live room is ideal for recording live-off-the-floor bands, acoustic ensembles, even small choirs; and our adjacent iso-booth provides exceptional sound separation for multi-track recordings. While recording, editing and mixing is non-linear and based in Pro Tools, we incorporate an assortment of tube pre amps, compressors, and effects processors from Tascam, Dbx, and Lexicon. The centre piece of the control room is our Tascam M3700, which is complemented by a variety of industry standard microphones from Sennheiser, AKG, and Rode.
The Engineer – Chris Colvin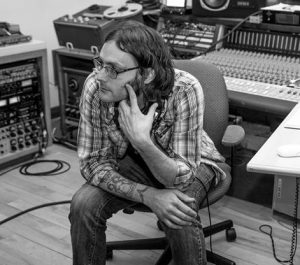 Chris began his career in audio recording as a co-operative education student working at Studio A-Mirador during high school. He went on to attend the Ontario Institute of Audio Recording Technology (OIART), and graduated with honours in 2003. Upon completion of OIARTs audio recording technology program, Chris joined the Studio A-Mirador team once again as an associate recording engineer. The experience Chris gained during his time with Studio A-Mirador gave him the knowledge and confidence to take the reins as studio owner in 2008. Chris purchased the recording and production interests of Studio A-Mirador, creating Studio A Audio Recording & Production in November 2008. Chris has been described as a "musician's engineer," and as a drummer himself, he has played in numerous independent bands and done session work over the past 20 years. Chris has an affinity for classic rock music and applies his thorough knowledge of music fundamentals in the studio across a wide range of genres. Chris prides himself on his digital editing abilities and his attention to detail, combining a musician's ear with an engineer's skills to ensure a perfect mix on every project.