via Courage My Love show what they've become.
By Patrick Finch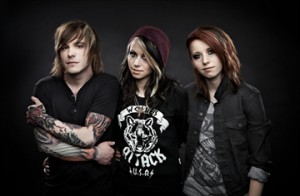 Twin sisters Mercedes and Phoenix Arn-Horn have seen a lot in the last three years. Their band, Courage My Love, continues to convert fans all over the world; their record label, the mighty Warner Music, keeps directing a national spotlight onto the 19 year olds; and their miles logged on the road keep growing. Sitting with the two sisters and new bassist Brandon Lockwood over lunch in uptown Waterloo, I was struck by their excitement, their luck, and their level-headedness in the face of great success.
"We were jamming in our attic and eventually we were playing local shows," singer-guitarist Mercedes told me, bringing me up to speed. "We got discovered by a producer and things just took off from there. We got signed; got a booking agent; started playing some amazing shows and taking our music really far. We were really happy with that. We got together with Brandon this year and it's been awesome so far.

"It wasn't a big deal," she said of being 'discovered'. "We didn't think anything about it at the time. We were playing this battle of the bands in Stratford. One of the judges came up to us after and asked if we had any representation. We were, like, 16 at the time, so we were like 'What does that mean?' He came to a few of our shows and ended up becoming our producer. His name's Chris Perry. His partner is our manager and they introduced us to everyone we know in the industry today: our booking agent, our label …"
Undaunted by the prospect of being employed by one of the world's biggest record companies, Courage My Love protected themselves, and their music, by first starting their own label, then licensing their material to their parent company. It's the very same move an extremely industry-wary Dave Grohl made when first venturing out after Nirvana.
"Homeskool Prom Records is a label that we made," drummer-singer Phoenix explained, "and through that we got a distribution deal with Warner Music, so that's the label we're signed to, but Homeskool Prom owns all our music. We were getting approached by a bunch of different labels and we got approached by Warner and they seemed like a pretty cool label, and just to protect our music, we made our own label and then signed with Warner. We've had a really good relationship with them ever since then."
Since climbing into bed with big-business, Courage My Love have released their debut EP, For Now, as well as an acoustic sessions companion CD. They've toured Japan and found fans in pockets all over the world. This month they will release Becoming, their second proper EP and an aural document of their adventures and growth over the past year.
"When we wrote our first EP," Phoenix said, "it was before we'd done any touring, before we'd done anything really. From what we learned in the past year, we kind of wrote about it. That's why it's called Becoming. Obviously, we, as individuals, have changed. As teenagers, one year to the next can mean a huge difference and we learned a lot. We said goodbye to our old bassist, and then brought Brandon in. We were halfway through writing and recording the album when we brought Brandon in and you can definitely hear a huge transition in the music from where we were when we were 17 to being 19 when we finished the album. I think the album's about change; becoming yourself and discovering who you are. It's about growing. Cause we're not finished growing yet. It's still becoming. I feel like it's just the tip of the iceberg. Even if you're 70 years old, I don't know if you know everything about yourself or if anyone really ever finds out who they are."
WHO: Courage My Love w/ All Systems Go!, Every Other Day
WHERE: The Hive
WHEN: Tuesday, June 18, 2013
TICKETS: $12 adv., $15 door
DOORS: 5:30 p.m., all ages/licensed