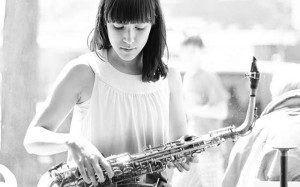 Since it's formation in 2009, The Allison Au Quartet has toured across Canada and the U.S. The ensemble recently earned a JUNO Award for their 2016 release "Forest Grove" and also garnered a JUNO Award nomination for their debut release in 2013 entitled "The Sky Was Pale Blue, Then Grey." The group was also awarded the TD Jazz Fellowship Scholarship (2011),The Alfred and Phyllis Balm Scholarship (2012), and The Margareta and Benno Nigg Scholarship (2013) to conduct artist residencies at the renowned Banff Centre.
In 2011, Allison was selected as one of eight international participants for the Metropole Orkest's Arrangers Workshop held in the Netherlands. There she had the opportunity to work with composer Vince Mendoza and The Metropole Orkest.
Since, her work has been featured with Hilario Duran's Latin Big Band (Canada), Grammy-nominated Jazz vocalist Roberta Gambarini, Blue Note recording artist Ruben Hein (The Netherlands), The Metropole Orkest (The Netherlands), The WDR Big Band (Germany), and The Filarmonica 900 del Teatro Regio and Torino Jazz Orchestra (Italy).
Allison Au – saxophone
Todd Pentney – piano
Jon Maharaj – bass
Ethan Ardelli -drums
Here is Allison in a trio format with "Cherokee"

Date/Time
Date(s) - 17/09/2016
8:30 pm - 11:30 pm
Location
KW Jazz Room
Category(ies)