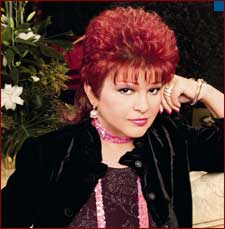 Aura's incredible voice has been stunning audiences and critics alike for over four decades. As Nat Hentoff said in his book The Grove International Encyclopedia of Jazz, "She is a phenomonel singer!" As well as building a formidable discography, Aura has performed extensively around the world with jazz giants – she toured the US and Japan with Quincy Jones, covered the US and Europe with Duke Ellington, and toured Scandinavia with Thad Jones and Mel Lewis (which culminated in their recording an album together with the Swedish Radio Orchestra). Her appearances include such prestigious venues as Carnegie Hall, Newport Jazz Festival and Village Vanguard.
She's been declared a national treasure in her native Romania (where she is known by her maiden name Aura Urziceanu) but has been based in Toronto since the early 70s. She continues to tour internationally as well as give master classes throughout Europe  and North America, her voice as well as her passion having grown richer with time.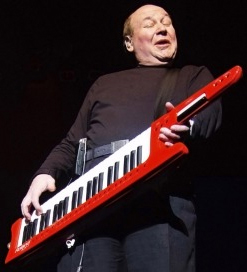 Dr. Paul Hoffert is Chair of the Bell Broadcast and New Media Fund, Chair of the Screen Composers Guild of Canada, Chair of the Glenn Gould Foundation Inc., and Professor of Music, Law, and Information Science at University of Toronto.
47 years ago, Paul and the Canadian rock band Lighthouse were playing at the Atlantic City Pop Festival. They shared the bill with Jefferson Airplane, Creedence Clearwater, The Crazy World of Arthur Brown, B.B.King, Tim Buckley, Byrds, Hugh Masekela and American Dream.
Keyboardist Hoffert and drummer Skip Prokop, of Paupers fame, had just formed the rock band with horns and strings, playing their first gig at the Rock Pile in Toronto, May 14, 1969 and Carnegie Hall 11 days later.
Paul has earned three Juno Awards, he's been  inducted into the Canadian Rock and Roll Hall of Fame and is a member of the Order of Canada.  He continues to perform with Lighthouse and his jazz ensembles.
Aura – Voice
Paul Hoffert – piano
Bruce Cassidy – Electronic Valve Instrument
Paul Intson – bass
Randall Coryell – drums
Alan Ralston – trumpet & flugelhorn
Check out this mind boggling improvisation on Route 66 from 2006 in Romania…..

Date/Time
Date(s) - 07/10/2016
8:30 pm - 11:30 pm
Location
KW Jazz Room
Category(ies)