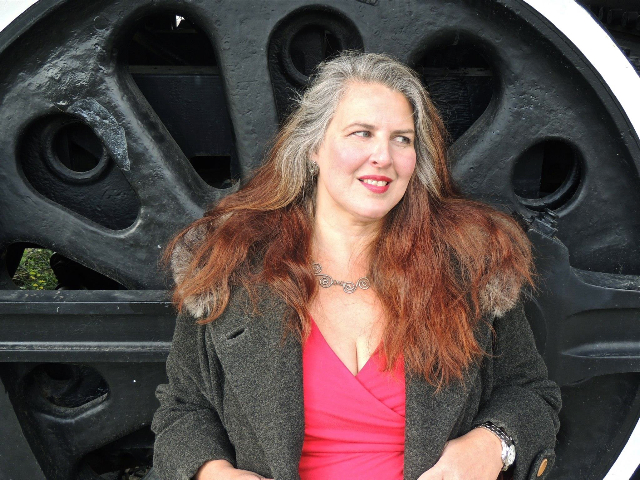 Originally from the Ottawa region, Guelph-based jazz vocalist Brenda Lewis' brendalewis.ca versatility garnered its roots in R&B, country blues, gospel and folk music in groups with Ian Molesworth (Hurt n' Run), Eddie Douglas and Nonie Crete – and now, vocal harmonies partner Gayle Ackroyd. For over two decades, Lewis has been captivating audiences across Ontario with some of Canada's cream of the jazz crop accompanying: Margaret Stowe, Tony Quarrington, Rosemary Galloway, Jeff Bird … In Toronto she has recently been featured in concert series at The Old Mill's Home Smith Bar, The Jazz Bistro, 120 Diner, Musideum and Flying Beaver Pubaret – as well as in the McMichael Gallery's Jazz Series, Merrickville's Jazz Fest, Uptown Waterloo Jazz Festival, 1000 Islands Jazz Festival, Guelph Jazz Festival, Arkell Schoolhouse, John Elliott Theatre and the Midland Cultural Centre, to name a few.
At The Jazz Room, she will be joined by music partner of 15 years, acclaimed Toronto jazz guitarist Margaret Stowe http://www.margaretstowe.com/ performing an eclectic, soulful and even quirky mix of repertoire. David Kidney of Green Man Reviews,  Hamilton, ON wrote: "Brenda and Marg work together like a finely-tuned machine."
Together and separately they are longtime favourites with KW audiences. Harry Currie, Waterloo Record  wrote: "Guitarist Stowe is simply, amazing. She plays long fluid lines that never seem to stop, the ideas pouring out of her in an uninterrupted flow. … At times as gentle as Bickert, she turns around and lets fly with the energy of George Benson, but always with accuracy and so, so tasteful." And of Lewis, Robert Reid, Waterloo Record wrote: "Her rich full-bodied voice is an elastic instrument, especially in songs that speak to the heart. Whether choosing a jazz standard or a song from a contemporary songwriter, Lewis has impeccable taste."
In June 2017, Lewis will be a guest vocalist in two concerts presented in The Registry Theatre's Jazz Series celebrating the music of The Breithaupt Brothers – a songwriting tour de force often referred to as the Canadian Gershwins. That same month, she is the featured artist in  Niagara Jazz Festival's monthly "Twilight Jazz Series.
Brenda with "I Cover The Waterfront"

Date/Time
Date(s) - 03/02/2017
8:30 pm - 11:30 pm
Location
The Jazz Room
Category(ies)