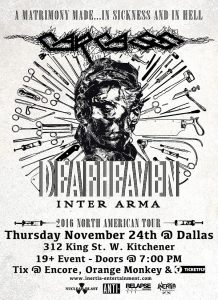 Carcass are a British extreme metal band from Liverpool, who formed in 1985 and disbanded in 1995. A reformation was enacted in 2007 without one of its original members, drummer Ken Owen, due to health reasons. Carcass are regarded as pioneers of the grindcore genre. Their early work was also tagged as splatter death metal, hardgore, and goregrind; on account of their morbid lyrics and gruesome album covers. They also became one of the pioneers of melodic death metal with their 1993 album Heartwork.
Deafheaven is an American metal band formed in 2010. Originally based in San Francisco, the group began as a two-piece with singer George Clarke and guitarist Kerry McCoy, who recorded and self-released a demo album together. Following its release, Deafheaven recruited three new members and began to tour. Before the end of 2010, the band signed to Deathwish Inc. and later released their debut album Roads to Judah, in April 2011. A follow-up album, Sunbather, was released in 2013 to wide critical acclaim, becoming one of the most praised albums of the year in the United States. In 2015 the band released their third album, New Bermuda.
Founded in Richmond in 2006, the versatile and genre-defying five-piece released their debut full-length Sundown via Forcefield Records in 2010, and like all great artists, had a well-defined sound right from the start. Sundown found INTER ARMA widespread critical acclaim, and, combined with the band's relentless touring schedule and DIY grit, quickly helped INTER ARMA make a name for themselves in the underground.
34.50$ + Fees at Ticketfly
19+ Event

Date/Time
Date(s) - 24/11/2016
7:00 pm - 11:30 pm
Location
Dallas Nightclub
Category(ies)