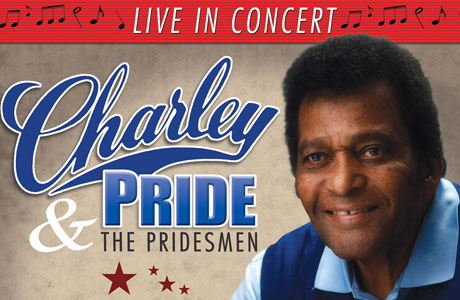 CHARLEY PRIDE who has been performing his own special brand of Country Music around the globe for over 50 years is returning to Canada for a limited number of tour dates in 2017, and fans are excited!
CHARLEY PRIDE has always had warm feelings about his trips to Canada, often stating that country music fans in this country are some of the greatest, most loyal fans in the world. His 2017 show will be a real trip down memory lane as he focuses on all the songs that have kept him in the forefront of Country Music since the early 1960's.
Pride is a singer who knows what it takes to please an audience and is often greeted with a standing ovation. There is nothing outdated about his music or the sound he creates with his renowned band "The Pridesmen" as they feature many of his 36 "Number One Hits" in every show. He always leaves his fans satisfied. He knows what they want to hear, including such legendary songs as "Kiss An Angel Good Morning", "Crystal Chandeliers", "Kaw Liga", "Just Between You and Me", and "Is Anybody Goin' To San Antone".
CHARLEY PRIDE in Canada in 2017. The magic and the memories continue.

Date/Time
Date(s) - 14/05/2017
2:00 pm - 5:00 pm
Location
Centre In The Square
Category(ies)