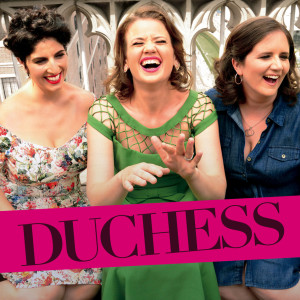 A vocal trio in the great tradition of the Boswell Sisters, DUCHESS has quickly gained a reputation for providing tight harmonies and big fun at their shows.  Vocalists Amy Cervini, Hilary Gardner and Melissa Stylianou join forces and voices to become, DUCHESS.
Amy Cervini is a Canadian-born, now-New-York-City-based, vocalist who has released two previous albums which combined standards with jazz interpretations of popular music. Digging Me, Digging You is her first album containing only jazz classics, and her first tribute album to the greatnBlossom Dearie.
Melissa Stylianou moved from her native Toronto to her adopted home of Brooklyn in 2005 and began turning heads in NYC's jazz scene from the start. Stylianou's fourth album – Silent Movie (Anzic Records), features original pieces, fresh takes on jazz standards and left-field songs from Johnny Cash to Joanna Newsom, backed by top New York musicians. JazzTimes says: "Now, with Silent Movie, she settles into a spellbinding groove that advances her to the forefront of contemporary vocalists, rivaling the storytelling élan of Joni Mitchell and Carly Simon."
Hilary Gardner grew up in Wasilla, Alaska infatuated with New York City. Her stunning Anzic Records debut, The Great City, is part love letter, part lament to New York and the big dreams it represents.  The Great City can be heard on radio stations across the country, and the album has garnered effusive praise from the jazz community, including DownBeat Magazine, which named Hilary "an artist to watch in 2015? and a Rising Star Female Vocalist.The Frank Sinatra estate chose Hilary to appear as the live, onstage singer in Tony-award winner Twyla Tharp's Come Fly Away.  Backed by a 19-piece big band, Hilary sang solos and duets with Frank Sinatra in a performance hailed by critics as "wonderful" (Huffington Post), "elegant" (USA Today), and "terrific" (New York Observer).
Any Cervini – Vocals
Melissa Styllianou – Vocals
Hilary Gardner – Vocals
Dan Fortin – Bass
Ernesto Cervini – Drums
Adrean Farrugia – Piano

Date/Time
Date(s) - 21/01/2017
8:30 pm - 11:30 pm
Location
The Jazz Room
Category(ies)