Monsoon is an Indo-Jazz collective whose music combines elements of creative Jazz with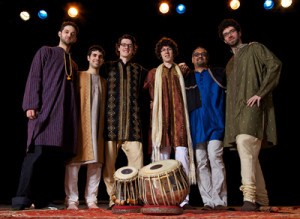 traditional Indian Classical music to produce a rich and meaningful cross-cultural expression. Their elegant synthesis of penetrating Indian Ragas with creative Western expression has earned them International critical acclaim as innovators of the Indo-Jazz genre. Captivating audiences with memorable original compositions, and creative improvisation, Monsoon creates a truly unique, and vivid musical experience.
Monsoon features some of Canada's most respected and versatile young musicians who have traveled the globe in search of a multi-cultural synthesis of musical expression.  Spending years in India learning the traditional art of Indian Raga music, brothers Jonathan and Andrew Kay weave intricate melodies on saxophone, bansuri (Indian bamboo flute) and other exotic woodwinds, while Justin Gray's collection of electric and acoustic basses sensitively compliment and provide a rich foundation.  Tabla virtuoso, Ravi Naimpally's intricate solos highlight India's complex rhythmic language, which Adam Teixeira assimilates into explosive grooves on the drums and cymbals.  Todd Pentney's keyboards unite each element, sweetening the collective expression and harmonizing Monsoon's unique compositional style.
Monsoon at Glen Gould Studio
Justin Gray – Electric Bass and Bass Veena
Jon Kay – Tenor, Soprano, Flute
Andrew Kay – Alto sax, various Woodwinds
Adam Teixeira – Drums
Derek Gray – Piano
Ravi Naimpally – Tabla
Todd Pentney – Keyboard

Date/Time
Date(s) - 25/09/2015
8:30 pm
Location
KW Jazz Room
Category(ies)