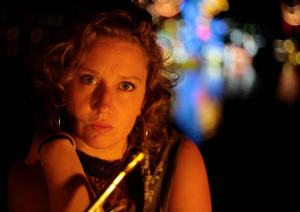 "Montreal-based trumpeter and composer Rachel Therrien's second album, Home Inspiration is a salutary reminder of something that the American jazz scene doesn't always seem to acknowledge—there's a thriving, young and imaginative jazz scene up north, in Canada." – Bruce Lindsay, All About Jazz
"Rachel is a young trumpet player with a luxurious opus in her compositions and her multicultural rhythms. A musical, fluid and mature phrasing" – Lionel Loueke
The Rachel Therrien Quartet is a fantastic emerging Jazz ensemble. Rachel is a graduate of Universite de Montreal where she completed a degree in Jazz interpretation under the direction of Trumpet professor Ron Di Lario. IN 2008, she spent 9 months in Cuba where she studied with Cuban greats including Elidio Chappotin, Yasek Manzano and Gorge Rubio. Her recording "On Track" (2011) features modern jazz compositions layered on top of a Cuban conga percussion attack. The first song of the album "Yemaya à Montréal" got on 1st place of Radio-Canada's Palmares Jazz of espace musique. She is currently working on two upcoming albums. The second one with her "Home Quintet" was launched this past summer and a new project "Pensamiento" fully recorded in Colombia will be launched in 2015.
Rachel has performed with such renowned artists are Vic Vogel, Remi Bolduc, Oliver Jones, Carole Welsman, Michel legrand, and Sophie Desmarais. There is a huge jazz scene in the province of Quebec. This is our opportunity to hear one of the rising stars in jazz from our neighbouring province.
Rachel plays her original composition "Le soledad" with Al McLean on alto.
Rachel Therrien – Trumpet
Luis Deniz – Alto Sax
Jeremy Ledbeter – Piano
Roberto Riveron – Bass
Anthony Szczachor – Drums

Date/Time
Date(s) - 27/11/2016
4:00 pm - 7:00 pm
Location
The Jazz Room
Category(ies)