One day, if someone plots the development of the Canadian roots rock community, they may discover that many, if not all, roads lead to the Skydig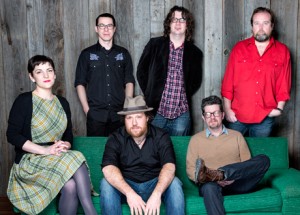 gers. Chemistry, passion, energy and evolution are a few words that come to mind when Andy Maize and Josh Finlayson talk about twenty-five years together in Skydiggers. When the band released their eighth studio album, Northern Shore, it stood out as the band's most adventurous and varied collection of songs yet.
For nearly 25 years Skydiggers' friends and fans have reunited over the holidays at Toronto's Legendary Horseshoe Tavern to celebrate the season to the soundtrack of the band's distinctive rootsy Christmas tunes, Skydiggers' classics and special guests. The Skydiggers are hitting the road again and taking this seasonal celebration on the road.

Date/Time
Date(s) - 09/12/2015
8:00 pm - 11:00 pm
Location
Centre In The Square
Category(ies)