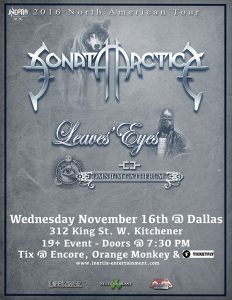 In 1996 Sonata Arctica was formed in the northern Finland city Kemi. Their first name was Tricky Beans.
After some line-up changes in 1997, they changed their name to Tricky Means. In 1999 the band recorded the new demo "Full Moon" in the Tico Tico Studios in Kemi.
In 2013 an exceptionally talented band will release "Symphonies of the Night" and once again reclaim the coveted spotlight that will place them at the pinnacle of the symphonic- rock and metal genre. With "Symphonies of the Night", multiple chart-breaker Leaves' Eyes begins a new chapter of music history, telling enchanting stories of historical heroines.
Hailing from Finland, Omnium Gatherum is a band playing fierce death metal with breathtaking melodies and progressive originality for people in the metal field looking for something different that still is catchy. A band that truly walks it's own path proudly and shows some new exciting sides on identifiable character. A band of many directions and styles, some of them clearly visible while others were more unseen – namely working and keeping it all together under the moniker of melodic life-and-death metal and bastardizing it with various influences. Adult oriented death metal that it is!
VIP Meet and Greet Ticket Available
19+ Event, tix at Ticketfly, & Usual Regional Locations

Date/Time
Date(s) - 16/11/2016
7:30 pm - 11:30 pm
Location
Dallas Nightclub
Category(ies)