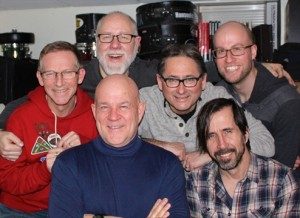 Top Pocket returns to the Jazz Room on October 14. One of Waterloo's best-known, and most popular Jazz bands since the late 80?s, this quartet has ranged from be-bop, fusion, Latin, and traditional jazz. These guys play with tremendous versatility and depth!
Collectively, these musicians have performed with many top artists including Robbie Lane and the Disciples, Peter Appleyard, Max Weinberg (Bruce Springsteen & the E Street Band), Pat LaBarbera, David Foster and Justin Bieber; have been involved in numerous musicals including "Into the Woods", "Jesus Christ Superstar", "The Full Monty", "Grease" and "Kandahar, A Soldiers Story" (written and produced for the stage by Robin Habermehl) and have also performed for world leaders: Vice President Dick Cheney, Prime Ministers Mulroney, Chretien, Clark, Campbell and Thatcher and Presidents Reagan, (HW) Bush and Khol.
Following the success of Top Pocket's first album "11:11", "rocket in my (top) pocket" (a contemporary jazz/fusion CD featuring all original compositions by Paul Stouffer and Robin Habermehl) was released on October 23rd, 2015 in a very successful CD release party at The Jazz Room!
In 2017, the guys plan to complete their 3rd CD having already recorded a number of tracks with recording engineer Peter Beacock and legendary producer Rick Hutt. The next album promises to include some surprises, as do all of their recordings and performances!!!
TOP POCKET 2016:
Robin Habermehl: Saxes & Flute
Paul Stouffer: Keyboards & Piano
Emile Deon: Electric Guitar
Michael Bergauer: Bass (Fretless & Fretted)
Don McDougall: Drums
Sean Habermehl: Percussion

Date/Time
Date(s) - 14/10/2016
8:30 pm - 11:30 pm
Location
KW Jazz Room
Category(ies)