Whitehorse's story has been told as two acclaimed musicians joining forces under one new name – no drummer, no keyboard player, violinist or even bass player on call, and no producer. Just Luke Doucet and Melissa McClelland.
The first album and EP demonstrate the success of this simple equat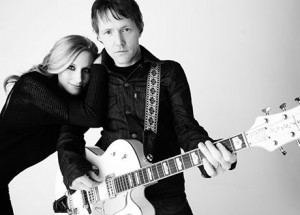 ion, one plus one, with an abundance of guitar slinging, songwriting expertise and white-hot desire. Of course, the live show has been anything but simple. Melissa and Luke present a full band sound using live loops, bits and pieces percussion, and swapping guitars left right and centre on stage. By the time Whitehorse took to the stage at Toronto's esteemed Massey Hall for their sold-out debut in 2013, the edge of the ledge effect of their earliest shows had transformed into a nimble ballet of moving instruments, layers of percussion, voice and keys, layered upon each other.
Now, with the sophomore LP Leave No Bridge Unburned, Whitehorse is back at The Centre for a performance that's better than ever.

Date/Time
Date(s) - 21/10/2015
8:00 pm - 11:00 pm
Location
Centre In The Square
Category(ies)