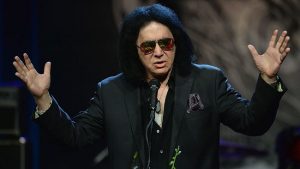 Gene Simmons has slammed free streaming sites for "killing" the music business by taking money away from aspiring musicians.
The Kiss rocker has been in the spotlight since his band formed in the early '70s and he remains one of the most famous names in music.
He's seen a lot of changes in the business over the years, including the invention of streaming services. Talking to podcast Thunder Underground, Simmons made his feelings about the music platform crystal clear.
"Good luck to 'em. I am not a supporter," he quipped of sites, such as Spotify, siding with stars like Taylor Swift who withheld her material from such services.
"If you wanna earn a living, you can't get the music out there. So you're living in your mother's basement, you have to have a day job and the kids get your music for free… And the people that killed all the new bands are the fans themselves. It wasn't corporate America, it wasn't aliens from space. The people that killed the music they love are the people who love the music."
Swift famously pulled her songs from Spotify in protest of artists not receiving fair payment.
However, Simmons did admit the issue doesn't affect him personally as he's already rich. He added he and his group can easily make money through licensing and merchandising.
Simmons, 67, also doesn't agree with the idea of fans paying however much they like for music, a scheme which Radiohead tested out 10 years ago when they self-released album In Rainbows.
"It doesn't work. Charge people. Make them pay," he stated. "Make a cross, draw a line in the sand. This is commerce, and that's charity. Once you get your money and all that stuff, then you can decide if you wanna do charity. Or advertise it as charity: 'What I'm about to do? Charity.'"