http://www.therecord.com/whatson-story/4615490-kitchener-s-musical-mecca-opens-encore-performance-on-king-street/
By Coral Andrews
Not a Dog Disc in the Dump since 1981 …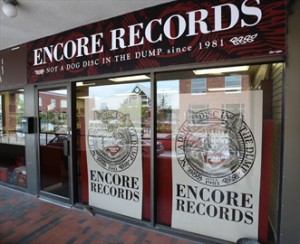 To local audiophiles, the motto is legendary.

It's the mantra for music retail mecca Encore Records — a source of great music, not only for music lovers, but for many musicians in Waterloo Region.
That includes Kitchener-via-Glasgow resident Norman Blake, of Scotland's alt-pop Teenage Fanclub, and Jonny (with Gorky's Euro Childs) plus The New Mendicants with Joe Pernice of The Pernice Brothers and Mike Belitsky from The Sadies.
Teenage Fanclub is set to play New York for River Rocks, North Carolina for Merge Records' 25th anniversary, then Scotland to mark the opening of Glasgow's refurbished Kelvingrove Bandstand. In addition, The New Mendicants are working on their second album. And in a few days, Blake says he's off to the U.K. to resume work on the new Teenage Fanclub album.
So he's a busy guy.
But not too busy to help Encore celebrate its Grand Opening Bash. The store is moving from Queen Street to new digs across from Kitchener Market.
"It should be good fun, I think." says Blake.
For the gig, Blake says he may try "just busking it."
"I will wait until the day, but I will definitely play some Fanclub songs. And I will play until people start throwing tomatoes and cans at me."
Blake met his wife/cultural curator, Krista, 20 years ago, while Teenage Fanclub were recording their album Grand Prix at Richard Branson's Manor Studio. They moved to Canada so their daughter could experience "dual nationality" and ended up in Kitchener.
Blake met Encore owner Mark Logan through Krista, "so I have known him for years and years. And he is a really good friend."
Blake says he loves Encore's new space, which is right beside their original location.
"It will get more people through the door. Especially on a Saturday. It's perfect. People can go down to market, have a coffee or buy some groceries. Or before they buy some groceries, nip over and buy an LP and listen to records while they prepare their vegetables." he says in his Glaswegian lilt.
Blake, says he also likes Encore because of its staff, including Sex Dwarf"s Chris Boyne.
Boyne, is excited about the store's new platform stage, which will be used for setting up special in-store events and live concerts.
"Mark has always wanted to have live music in the store, but it never really worked out because we have never had the room." says Boyne. "You should have seen his eyes light up at the idea of being able to have a stage in the store. That is his life. It's all of our lives really. We are survivors and we are in it for the long haul."
Boyne, who's playing with Blake and singer Lynn Jackson, says he will also be performing material from Sex Dwarf's next album. Eventually he wants to play cover songs from bands he never would have discovered had it not been for the 33-year-old store.
"It brings my early days working at Encore a little bit full circle. I looooove thissss placcccce." he howls.
www.coralandrews.ca
Encore Records Grand Opening Bash
Saturday July 5th
1-6 p.m.
#206 — 301 King Street East
(across from the Kitchener Market)
Scheduled to play The Encore Stage:
Lynn Jackson with Chris Boyne and Norman Blake
Matt Weidinger
Stephen Parkinson and Bryan Wright (Stony Lonesome)
Chris Boyne and Jake Stallard (Sex Dwarf)
Refreshments by special guest Glenn Smith of Ethel's
www.encorerecords.ca