http://www.therecord.com/news-story/5914234-music-s-new-spin-big-demand-for-vinyl-lps/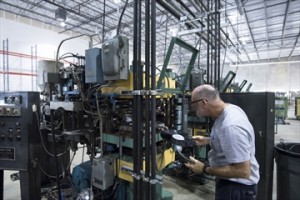 BORDENTOWN, N.J. — The machines at Independent Record Pressing whirred and hissed as they stamped out a test record. The business owners waited anxiously for Dave Miller, the plant manager, to inspect the still-warm slab of vinyl.
"That's flat, baby!" Miller said as he held the record, to roars of approval and relief. "That's the way they should come off, just like that."
Independent Record Pressing is an attempt to solve one of the riddles of today's music industry: how to capitalize on the popularity of vinyl records when the machines that make them are decades old, and often require delicate and expensive maintenance. The six presses at this new 20,000-square-foot plant, for example, date back to the 1970s.
Vinyl, which faded with the arrival of compact discs in the 1980s, is having an unexpected renaissance. Last year, more than 13 million LPs were sold in the United States, according to the Recording Industry Association of America, the highest count in 25 years, making it one of the record business' few growth areas.
But the few dozen plants around the world that press the records have strained to keep up with the exploding demand, resulting in long delays and other production problems, executives and industry observers say. It is now common for plants to take up to six months to turn around a vinyl order — an eternity in an age when listeners are used to getting music online instantly.
"The good news is that everyone wants vinyl," Dave Hansen, one of Independent's owners and the general manager of the alternative label Epitaph, said on a recent hot afternoon as the plant geared up for production.
"The bad news is everything you see here today," he added, noting that the machines had to be shut down that afternoon because of the rising temperature of water used as a coolant. To replace an obsolete screw in one machine, Independent spent $5,000 to manufacture and install a new one.
The vinyl boom has come as listening to music online has taken off as a listening format and both CDs and downloads have declined. The reasons cited are usually a fuller, warmer sound from vinyl's analog grooves and the tactile power of a well-made record at a time when music has become ephemeral.
Most surprising is the youth of the market: According to MusicWatch, a consumer research group, about 54 per cent of vinyl customers are 35 or younger. Hansen and Darius Van Arman, a founder of Secretly Group, a consortium of small record companies that is a partner in Independent, said they believed their customers were often discovering new music through streaming and then collecting it on LPs.
"None of this was supposed to happen, and yet it's happened," said Michael Fremer, a senior contributing editor at Stereophile magazine and a longtime champion of vinyl as a superior medium for sound.
Independent's machines tell some of the history of the modern music business. Miller, 62, helped build them as a young man in the 1970s, and they were used for decades at the Hub-Servall plant in Cranbury, N.J.; Miller recalls pressing copies of the "Saturday Night Fever" and "Grease" soundtracks there.
In 2007, Hub-Servall's presses were sold to RIP-V, a new plant in Montreal that took on Epitaph as a client. RIP-V shut down last year, and Independent bought six of its 14 machines and brought them back to New Jersey. Hansen said he and Secretly had invested $1.5 million in the venture.
For the music business overall, vinyl is still a niche product, if an increasingly substantial one. According to Nielsen, LPs now represent about nine per cent of sales in physical formats. But for indies like Epitaph and Secretly, vinyl has become essential: Both now take in nearly as much revenue from LPs as they do from CDs.
Hansen started Independent as a 50-50 partnership with Secretly to serve other independent labels — companies that often find themselves squeezed out of the production line by bigger players.
"One of the problems that independent labels are facing," Van Arman of Secretly said, "is that some of the bigger plants might get an order for an Eagles box set, and everyone else is put on hold."
When it is operating at full capacity, Independent should produce up to 1.5 million records a year, Hansen and Van Arman said. But first the machines must be fully restored and tested, and after several months they are still not quite ready.
While tweaking two machines, Miller, the plant manager, showed how many parts of the physical process must be aligned to make a record properly. Vinyl pellets are poured from a bucket into an extruder, and then formed into a small lump of vinyl that is placed between metal stampers forming the shape of each side of the record. The machine then presses the stampers together with 150 pounds per square inch of pressure. If the temperature, pressure or consistency of the vinyl is off, the result is an imperfect record that is scrapped.
"This is the dirty, brutal side of the record business," Miller said. "Nobody realizes the work it takes to actually make a record."
There is now a global rush to set up more plants and find existing presses, but the few that have been tracked down are often in poor shape. This year Chad Kassem of Quality Record Pressings in Salina, Kan., found 13 disused machines in Chicago — "they looked like scrap metal to anybody but me," he said — and he hopes to restore five of them within six months.
Yet talk of a possible bubble hangs over the vinyl business, and some plants seem to be bracing for a decline even as they expand. United Record Pressing in Nashville, one of the biggest plants, has 30 presses running 24 hours a day and has acquired 16 more machines. Yet the plant, overwhelmed by demand, has stopped taking orders from new customers.
"It's difficult to turn people away, especially when it is maybe an independent artist," said Jessica Baird, a representative of the company. "But we are trying to do the best we can for people who have been loyal to us for years, and that we hope will stick with us when the ebb and flow comes again."
Hansen, 52, said he was not sure whether the vinyl gold rush would continue, either, but he has staked a considerable personal investment in it and called the plant part of his retirement planning.
"The dream is to build capacity for our label and provide a service for the indie labels that I love and respect so much," Hansen said, "and at the same time, make a few bucks too."
New York Times