By Coral Andrews
Onion Honey's Esther Wheaton and Dave Pike are avid history buffs, be it witnessing Philae the lander touch down on a comet or finding unique anecdotes from Wheaton's family tree.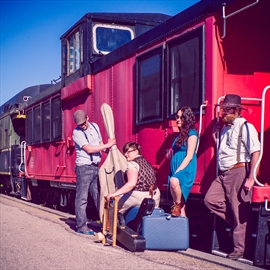 "I pushed all of the grandparents for stories from their past, and there is some amazing stuff that happened to them. So I thought I would put it into song," says the singer-songwriter, referring to band originals like sail-away yarn "Grandmother's Grandmother" and toe-tapper "Who Taught You to Say Can't?" inspired by Wheaton's grandfather.
A former Laurier student, classically trained in oboe, Wheaton once played with Banjo and the Bellows, while Pike once played with a band called A Yellow Field. Wheaton says they met while playing at the Boathouse on the same night. She adds they play "a dozen instruments between them," including banjo, mandolin, guitar, autoharp and washboard. Recently, the duo, who toured throughout southern Ontario and the Maritimes, added sweet musical layers to the band, including Michelle Horel from Ever Lovin' Jug Band on vocals and banjolele (banjo/uke combo) and classical/bluegrass sessions player Stuart Cybulskie on double bass.
As the new foursome, Onion Honey released EP "Pocket Pair," which was produced by Pike at his home-based String Theory Studios in downtown Kitchener.
Wheaton says she and Pike listen to the anthology of American folk music and the more contemporary folk artists who take those songs and make them their own. Onion Honey also does that with traditional songs they love like "Sleepy Eyed John" by Johnny Horton, "Darling Corey" by Pete Seeger and "Butcher Boy" by Tommy Makem. They strive to give their original slice-of-life songs such as "Mad as a Hatter" or Wheaton's self-described "clever but adorable" "Zombie Love Song" the same kind of old-time folk tunes flavour.
"Home Before the Snow" is Onion Honey's five-song seasonal EP, featuring Wheaton's imploring sway-along song "Won't You Get Me a Hound for Christmas" with dad Tim Pike on the organ. Dave Pike penned the foot-stompin' title track "Home Before the Snow." Yiddish folk-a-billy style traditional "Hanukkah, Oh Hanukkah" is a "fun track" for band member Michelle Horel, who is Jewish. And from Xmas classics "I Saw Three Ships Come Sailing In" and "Here We Go A Wassailing," Wheaton arranged "claw-hammer" carol mash-up "I Saw Three Ships (Come Wassailin' In)." "Christmas Comes by Rail," written by Wheaton and Pike, is a song based on Wheaton's great-grandfather's tradition of sending a Christmas tree in a boxcar by rail from Sackville, N.S., to her dad in Sudbury every year. And though her grandmother says the tree was more trouble than it was worth, and often dry upon arrival, Wheaton says for her dad and aunt, "Christmastime was there when the tree arrived."
Onion Honey plans to release a full-length CD next summer, featuring more homespun singalong originals and traditional songs. They also hope to tour anywhere in Ontario "within a six-hour drive."
Wheaton adds the band name was inspired by driving around Waterloo Region and Wellington County one afternoon.
"We saw a sign advertising produce outside one of the farms with "onions" and "honey" side by side," she says. "We thought the juxtaposition of flavours was a pretty good representation of the band — sharp and sweet, traditional, but a bit unconventional."
Onion Honey holiday EP release
with Kate and Rich
Sara Rose Hebert
Cafe Pyrus, Kitchener
Saturday, Dec. 13
Tickets are $10
7:30 p.m.
All ages