By Linda Givetash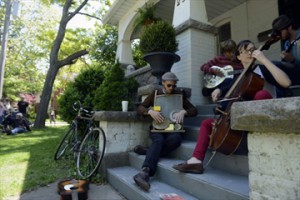 WATERLOO — The normally quiet streets of an uptown neighbourhood were transformed into a series of 
concert venues enticing people to get outside and connect with their community.
The third annual Grand Porch Party featured an array of local musicians from the children's music group Skalywags to Kitchener alternative rock band The Short Films.
The Sunday afternoon event saw hundreds of people gather around the 20 different porches — located between Roslin and Euclid Avenue just south of Erb Street West — that acted as stages for the many musicians.
Thompson, who hosted her Roslin Avenue porch for students from the Adrian Jones Music School, said she is glad to see the community involvement grow since the inaugural porch party in 2011.
"We have a lot more volunteers involved this year," she said.
Not only was the event an opportunity for neighbours to connect and enjoy the outdoors, the porch party provided musicians with a unique opportunity too.
"People who might not even know that the Grand Porch Party is even happening, they'll hear the music and come and see it," said Adam Horrocks, 20, after performing his original song You'll Always Like That.
While Horrocks is no stranger to performing in front of a crowd — often gracing the stage at Maxwell's Music House with his band Lancaster — he said having a porch as a stage introduced him to a new audience.
Horrocks was among almost 40 students from the Adrian Jones Music Schoolthat performed at Thompson's porch to a growing audience that spilled across the street.
"It's cool for the community to come together like this," Horrocks said.
The unique setting is the reason Adrian Jones said he decided to have his students' recitals incorporated into the porch party.
"Every time I do a recital I try to find a venue with a really good vibe," Jones explained. "When the opportunity came to do it here I jumped at it."
And it was an opportunity he hopes to repeat for his students next year.