Waterloo Region Record
By Coral Andrews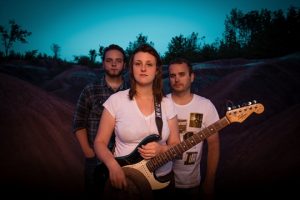 Meghan Weber loves Woody Allen movies, especially the 1920s time-travel fantasy "Midnight in Paris" and "Hannah and Her Sisters," which includes the famed quote, "The heart is a very, very, resilient little muscle."
"When I went to New York, I got to sit under the Brooklyn Bridge like Annie Hall. It was a very important thing to do," says the Kitchener-based singer-songwriter, who also feels it is important to have "Heartsongs."
"The show will be emotion-based. And a lot of songs will have the word 'heart' in them," notes Weber, adding she will be joined by musicians Tasha Allain and Vienna D'Amato Hall, who will perform separate music sets.
Weber says she and D'Amato Hall had discussed the idea of doing a show together. That discussion was the root for the concept of having a night of "heart-themed" songs. Allain and D'Amato Hall have recently run open mic nights at The Boathouse in addition to performing shows in Waterloo Region and beyond. But it's been a while since Weber has performed and even longer since she has written a song.
"It is different every time. I cannot force it. It is one of those things and it is usually therapeutic. That's why it has been hard to write lately because I have been so … happy," she says with a laugh, referring to her recent engagement to singer Paul Lipton who joins her on XX cover song "VCR."
Weber's band Falcon-Abbey (featuring Naveed Zardkanlou, bass and Andrew Heipel on drums) is just beginning work on a new CD, as Weber continues to write the songs. Her sultry, sensual drawl is reminiscent of Fiona Apple, Frazey Ford, and occasionally Courtney Love for its primal, often dramatic, intensity on songs like "There is a Bird Who Lives in My Heart," "Maple Keys," "Tiny Stones," "Severe" and especially "The Outskirts."
Weber excels in many creative endeavours, including her own photography business.
"The camera work has really exploded," says Weber, who was just in San Francisco. "I want to start putting on a few more shows where something visual happens, like working with other artists, to come up with something a bit more interesting rather than just sitting on a stage singing. I also chose to perform with Vienna and Tasha for a little bit of female power," she notes.
Weber says the biggest part of the show will be the visuals, provided by local artists Natalie Herzing and Hannah Smith. Weber saw Herzing's handcrafted paper cut-outs (intricately designed lanterns) on Instagram. She asked Herzing and Smith to create a unique stage design, so the show will have some visual magic.
"I know that they made a big background with crochet and sticks," notes Weber. "There are lights and cut-outs. I do not know if they are going to turn on the lights in different areas. It's really exciting because it gives Natalie and Hannah control and lets the show unfold, rather than it being too structured."
http://www.therecord.com/whatson-story/6787804-weber-celebrates-songs-of-the-heart/