I had the privilege of transferring the original reel for Dennis Wallace about a year ago. The following article appeared in todays KW Record.
http://www.therecord.com/whatson-story/4403084-the-beat-goes-on/
By Greg Mercer
KITCHENER — Close your eyes, and you can almost hear time fading away.
The Rondelles haven't played together in more than 50 years, and yet here they are, making music once again.
There's Dennis Wallace leading the rhythm on his acoustic guitar; Joe Docherty leaning into the microphone, singing; Ray Taylor laying the foundation on his bass and Peter McCutcheon guiding it all on piano.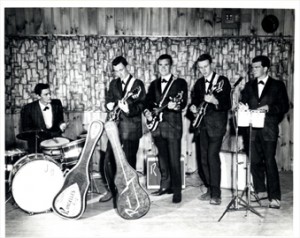 In the early 1960s, their band was a teenage phenomenon in the Toronto area, playing rock 'n' roll shows at high schools to throngs of adoring girls. The group broke up in 1964, and they haven't performed a note together in public since.
Until now.
This Saturday night, the Rondelles will play their first concert in five decades — a special reunion gig at the Kitchener Waterloo Naval Hall. It'll all be recorded as part of a documentary that's breathing new life into an old band.
The surviving Rondelles are in their early 70s now, with grey hair and their teenage years well behind them. They're scattered across the country, too, with Wallace in Waterloo, Docherty in St. Thomas, Ont., Taylor in Vancouver and McCutcheon in Victoria.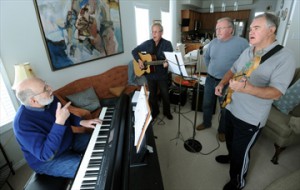 But on a recent afternoon, they shook off the rust and were rehearsing in Wallace's living room, prepping for their concert. They've lowered the key in a few songs, to match their aging voices, but they say that old familiar feeling is coming back.

"It's like the Tin Man in the Wizard of Oz. We just need to oil it up, and all the sudden we remember all the little moves," said McCutcheon.
"It's interesting how it all comes back. It's like a part of your memory that's buried in your fingers. … Some of that just starts coming out of the woodwork, like it did 50 years ago."
At their rehearsal, they ran through a few covers, including a country-tinged version of Living Doll by Cliff Richards, which topped the British pop charts in 1959, and Conway Twitty's It's Only Make Believe.
This Saturday, they'll also perform their own original staple, Rondelle Rock, an instrumental that recently made its way onto YouTube — search "The Rondelles (1960)." The tune was recorded in a friend's living room on a reel-to-reel tape way back when and was packed away for decades until it was finally digitized.
"I think it's going to be exciting," said Wallace, who orchestrated the band's reunion. "We're told the members at the Navy Club will get up to dance to anything. So we could be really bad, and they'll still be on the floor."
Some of them haven't touched an instrument in years and admit to feeling a few nerves. But they've been rehearsing hard to recapture old standards by the likes of Roy Orbison and the Everly Brothers and figure they'll be ready by Saturday.
"It feels a little rusty, and we feel a little nervous, but there's not a lot of pressure," Taylor said. "We stumbled on an old song this morning, and it sounds good."
Their tartan-patterned jackets are long gone, but the guys picked up matching ties and black suits for their gig.
The only missing piece is drummer John Carpenter, whom no one has seen since the band broke up. The band mates tried to track him down, but believe he's passed away.
The reunion concert started formalizing after their story caught the attention of Toronto's Michelle Samcoe, a Ryerson University student. She suggested filming the band's reunion for a documentary to be released this summer — and wanted to build the film around a live show.
"When I heard she wanted us to do a concert, I said, 'OK, let's do it,' " Docherty said.
Samcoe said she was drawn to the band's story, and loved their easy camaraderie that picked up where it left off five decades ago.
"These guys were apart for 50 years and they came back together, and it's like no time has passed. It's so funny, they tease each other like teenagers," she said.
McCutcheon says as soon as they started playing together again, it didn't feel like much time had passed.
"It feels just like it did back then. The only difference is now we're old enough to drink," he said.
The concert's second set Saturday will be a departure from the Rondelles' usual stuff. Instead, it will feature new songs composed by McCutcheon, and performed by local musicians Lauren Milner and her brother Christopher.
And as for the Rondelle's missing drummer, Samcoe isn't worried what happens if he resurfaces after her documentary. She's got a plan.
"I guess we'll have to do part two," she said.
gmercer@therecord.com , Twitter: @MercerRecord
Saturday's concert
The Rondelles play the Kitchener Waterloo Naval Association Hall, 315 Weber St. N. in Waterloo at 7 p.m.
Admission is free, although donations are being accepted to the Innisfree House, a new palliative care centre being built in Kitchener. Tax receipts are available for donations over $20