http://www.therecord.com/whatson-story/5677966-koi-launches-first-wave-of-festival-lineup/
Waterloo Region Record
By Record staff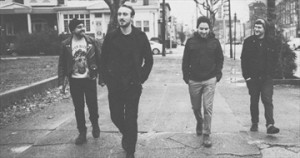 KITCHENER — American punk rockers The Menzingers are among the first group of musical acts announced to play the sixth Kitchener Ontario Independent Music Festival this fall.
The Scranton, Pa., band will be joined by some other notable U.S. acts for the festival held at venues throughout downtown Kitchener Sept. 25-27.
letlive. is a post-hardcore band from Los Angeles while I See Stars is an electronic hardcore band from Warren, Mich. Waterloo's own folk-rock group, The Royal Streets, is also on the bill.
The four bands were among the first 10 acts named to perform at the 2015 edition of the festival, which boasted 105 acts a year ago.
"This is only the first of many announcements to come," KOI co-founder and festival executive director Cory Crossman said in a media release.
"We're looking forward to further growing the festival to meet the levels of excitement we've seen for the five years previous."
Other bands to perform include Hawthorne Heights from Dayton, Ohio, Hartford's Make Do and Mend, Burlington's The Creepshow, Wyoming's Teenage Bottlerocket, Calgary's The Fast Romantics and PEARS from New Orleans.
KOI, formed by Crossman and his brother Curt, is billed as a celebration of the diverse independent music scene in Canada. Through the festival, the Kitchener musician brothers aim to promote their city as a musical hub while offering exposure to local bands.
This year's festival includes some new features. The KOI Battle, in partnership with Maxwell's Music, will see local bands dueling for a chance to perform on the main festival stage. A lead-up tour to the festival will be called "The Road to KOI." The acoustic brunch series, which saw main stage bands play intimate and unplugged sets over breakfast, will return.
The First Wave of KOI
Sept. 25-27
Letlive.
Hawthorne Heights
The Menzingers
Make Do and Mend
i See Stars
The Creepshow
Teenage Bottlerocket
The Fast Romantics
PEARS
The Royal Streets
www.koimusicfestival.com