Waterloo Region Record – http://www.therecord.com/whatson-story/5921218-popsmacked-kitchener-s-koi-music-fest-combats-festivalitis-/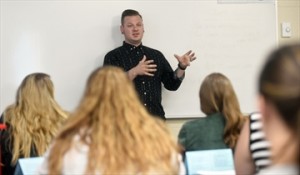 The liver-lipped mascot — the colour of boiled carrots — is wedged in a corner, having outlived its usefulness as a symbol of the edgy, underground music festival it had come to represent.
"It was causing some confusion," points out Cory Crossman of the mammoth stuffed koi fish used as a calling card for KOI, the Kitchener Ontario Independent Music Festival he founded in 2010 with his brother Curt.
"After five years, it was time for a rebrand."
So they ditched the ornamental Japanese carp — which, frankly, had nothing to do with indie music anyway — and replaced it with an elegant silhouette of downtown Kitchener as a construction zone: a city on the move, reaching for the future.
"We're redefining and redeveloping ourselves along with the city," points out Crossman, settled in the festival's Kitchener digs, a bricks-and-beams masterpiece in a converted factory near the Kitchener train station.
"Someone told me, 'This is your vibe — edgy but still sophisticated.' You can see the history and culture, but it's still funky. It's not cheesy."
Funky … cheesy. It's a thin line.
And with a roster of acts that encompasses everything from indie rock, hip hop and pop punk to metal, hardcore, reggae, ska and alternative blues, the brothers have managed to consistently land on the right side in a city known for bratwurst and a stuffed Bavarian beermonger named Onkel Hans.
"There's a party atmosphere," notes Crossman, who handles the music end of the business while older brother, Curt, runs the duo's adjacent clothing print shop.
"But we've always tried to focus on music and bands."
Because it's local, and because the bands aren't commercial powerhouses with egos and bodyguards, the festival boasts an interactive vibe that makes it distinct.
"I don't think there are many music festivals where you can see a headlining act at the back of a room watching an up-and-coming young band," points out Crossman, noting the festival has hosted up and coming heavyweights like Walk Off The Earth and Monster Truck.
"The musicians aren't locked in a green room. They're out walking around. That's our unique atmosphere — accessibility."
But things change. And as the musical landscape evolves, buffeted by economic trends, it's clear there are concerns about making the festival leaner, sleeker, more efficient.
"It's a really competitive market right now," notes Crossman after a summer in which it seemed everyone and their dog hosted a music festival.
"Everyone's trying to get their festival crammed into the summer months."
Call it festivalitis, a bandwagon effect destined for some grand Darwinian bloodbath, critics predict, until the dust settles.
It was bound to happen.
Since the music industry imploded with the rise of Internet file sharing, it's been almost impossible for musicians to make money through recordings — at least those not embedded in music's million-seller club.
Nor do they have the resources to launch a tour in a repressed economy where big acts make out like bandits and everyone else struggles for survival.
The solution: festivals. Develop a theme, assemble a smart, compelling roster of acts, create an engaging vibe and watch the coffers overflow.
In the past two months, we've seen the WayHome Music & Arts Festival in Barrie, Kitchener's Big Music Festival, Toronto Urban Roots Fest, Guelph's Hillside, Elora's Riverfest and Toronto's Riot Fest, which is KOI's biggest competition.
If it were a movie, it would be called "50 Shades of Indie," since most draw from the same pool of talent.
"It's an economics question," U.S. booking agent Todd Cote told wonderingsound.com. "When anyone has any success, people come in and copy it and do it again.
"And then they overload the system."
It's true. In the face of new competition, Guelph's Hillside, for the first time in years, failed to sell out.
Kitchener's Big Music Fest cancelled its entire Sunday lineup — half its paid talent roster — when it turned out people would rather drive hours to see Rod Stewart in a casino than stand all day in a muddy field.
With industry predictions that the festival bubble is about to pop, indie underdogs like KOI have reason to be concerned.
"We knew coming in it would be an aggressive market this year," notes Crossman. "The biggest festivals make it very difficult for smaller ones."
But these guys are hardscrabble Kitchener survivors, not whiny Woody Allen neurotics.
Faced with a challenge, they concoct a business plan, put their noses to the grindstone and get the hell back to work.
"No one's going to do it for you," notes Curt. "You just do it yourself."
Minor hockey players in their youth, their straight-on approach to teamwork is a model of hands-on efficiency.
Cory — younger of the two — is the laid-back people person who oversees the festival side: engaged, committed, without affectation.
Curt, who runs the duo's sideline clothing print shop, is more intense, focused, with a keen BS detector and an eye on the bottom line.
In the 30 minutes I talk to them together, they finish each other's sentences, back up each other's assertions and cast meaningful looks when a question touches a nerve.
It is, I suspect, the key to their success.
"Our primary focus is to develop and grow a sustainable arts and music culture for Kitchener-Waterloo," points out Cory, who began programming concerts with Curt two decades ago as students at Kitchener's Grand River Collegiate.
"This is our community. We built it up. We work with local artists. It's not a gimmick."
But there's another issue that dogs all concert bookers at some point, an invisible elephant that can turn you from edgy to irrelevant in the blink of an eye: the encroachment of, gulp, middle age.
At 33 and 31 respectively, Curt and Cory are still young — youngish.
But next to the mohawked koi fish stuffy is a declarative sign of the future: a high chair reserved for Cory's nine-month-old daughter.
"How long can we continue to do this?" Cory muses, aware the festival's average attendee is a 23-year-old male. "It's mentally and physically exhausting.
"A lot of people think it's just rock 'n' roll and partying, but it's quite the opposite: long hours, high stress."
Dealing with everything from funding applications and portable toilet rentals to band riders that insist on everything from fresh socks to Mars bars and peanuts, he says the brothers need a month to recover.
And let's be clear: even with 105 acts over three days, a $300,000 budget and an expected crowd of 10,000, it's not like they're rolling in dough.
"We don't want to stop presenting events like KOI but we need the support of the community," sums up Cory, who admits that with all the competition, it can be tough to marshal resources.
"There are real costs to managing events of this nature and things can't be free.
"We are, unfortunately, year-to-year. We are NOT a not-for-profit. We are trying to create a sustainable business model in a highly, highly competitive industry."
As the retired KOI mascot glares from its perch behind the high chair, you sense that despite the challenges, the future will be bright.
Joel Rubinoff writes about pop culture. Email him at jrubinoff@therecord.com
KOI Music Fest
Sept. 25-27
Six indoor venues, two outdoor stages and one acoustic tent in downtown Kitchener.
Kickoff show Thursday with The Trews. Tickets $25.
Advance tickets: $30 Friday, $55 Saturday, $75 for Friday/Saturday pass, $25 for Sunday brunch shows.
Tickets available at West 49, The Beat Goes On and ticketscene.ca/koifest
VIP passes for Friday/Saturday are $100. Online only.
For more information: www.koimusicfestival.com