The return of Guns N' Roses and Ritchie Blackmore's Rainbow underlines how logos and audience loyalty are more crucial to a group's success than who is on stage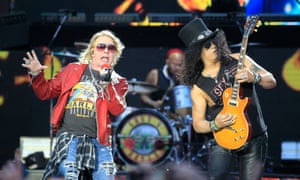 This weekend, two of the biggest names in hard rock return to London: Guns N' Roses play two nights at the London Stadium, while Ritchie Blackmore's Rainbow headline the Stone Free festival at the O2 Arena. But, while fans are excited about the shows, there is a sense that this bonanza of riffs will be less like watching bands perform and more like engaging with well established rock brands. Rainbow, for example, will feature none of the many members who were in the band during the group's first turn around the block in the 70s and 80s. Guns N' Roses' shows, billed as a reunion of the band who reinvigorated metal 30 years ago, are no such thing. It's no longer Axl Rose plus hired hands; it's Axl Rose plus Slash plus Duff McKagan plus hired hands. In particular, there's no Izzy Stradlin, viewed by many fans as just as important as Rose and Slash to the dynamic of the original lineup.
I'm not complaining. With hard rock it rarely matters who's in the band as long as the brand is healthy. If the songs are played well, if the performances are dynamic, if the crowd are behind the group, it can be one original member plus five people recruited from Britain's Got Talent and still be terrific. That's a lesson I learned last summer, when after writing here that AC/DC should call it a day following the enforced departures of Malcolm Young and Brian Johnson, I saw the band with Axl Rose fronting them – and thought they were spectacular. Perhaps even better than they had been with Johnson.
There are plenty of other examples of bands who've rotated members with alacrity: Deep Purple, Iron Maiden, Whitesnake and Thin Lizzy. Even Def Leppard, who were adamant they couldn't carry on without Rick Allen after the drummer lost an arm, have spent the past 30 years with different guitarists.
Metal and hard rock are unusually good at subsuming band to brand. It's hard, for example, to imagine Coldplay still being Coldplay if it was Will Champion and Guy Berryman plus two. Or U2, even with Bono in place, if there were three rotating replacements behind him. Kraftwerk have managed it – Ralf Hutter is the only member predating 1990 – largely because they had dispensed with the notion of the individual long before the other members of the classic quartet began to depart. They were Die Mensch-Maschine back in 1978. Sugababes managed the feat of replacing all their original members, though few view that final lineup with much affection.
Why, though, are hard rock and metal fans so willing to embrace the brand over its human components? I suspect it is tied in to the intense tribal loyalty and sense of us-against-them that heavy rock engenders. That's the loyalty that still leads people, 40 or so years after the habit first became commonplace, to sew band patches all over their denim.
Those patches on the jackets contain another crucial element of the brand identity: the logos. More than any other style of music, metal celebrates the logo. It's noticeable that, since reviving Rainbow, Ritchie Blackmore has used none of the nondescript typography of most Rainbow records, choosing instead the memorable gothic script that featured on only three albums but which most fans think of as the classic Rainbow logo from the classic Rainbow lineup.
However, there's a third element to all of this. You'll often hear heavy bands talking about their bond with their audience, about everyone being family, and how they are a people's band. It doesn't matter whether or not the bands themselves believe that; what's important is that the fans believe it. A great rock gig is as much about the communion of the fans, the sense of gathering and unity, as it is about what's happening on stage. That's why the metal festival at Donington Park in Leicestershire, under whatever name it operates, is considered some sort of sacred pilgrimage by bands and fans.
Once the band is no more important than its fans, it's a short step to realising that whoever happens to be on stage playing an instrument is not crucial to the success of the group. That the brand is bigger than the band. All of which is why I'm not that fussed who exactly I'll be watching – I hope – on Friday and Saturday. They will still be Guns N' Roses and Rainbow, no matter what the lineups are.