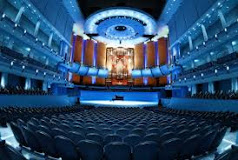 It's part of the Inquiring Minds program at the Winspear Centre for Music, and Grade 3 students enjoying a field trip to the Davis organ were perfectly cast for the effort.
"Why are those fake tubes there?" "What's Dr. Davis' first name?" "How old was he when he died?"
Some two dozen students from Norwood School pepper facilitator and musician Nathan Chan with questions. He gamely responds, promising to research any answers he doesn't have at his fingertips. Watching nearby is Alison Kenny Gardhouse, the Winspear's director of musical creativity, who says Inquiring Minds is oversubscribed.
"We could easily double or triple these field trips," says Kenny Gardhouse, noting registration is a "madhouse" for this and other popular, community programs at the centre.
What's stopping more students – often from high-needs families where access to music education is limited – from taking part is space. That's why Winspear staff hopes the provincial government will commit $13 million in capital funds in next week's budget.
When the Winspear was first conceived, it was a two-part process. The first is the Music Centre itself, celebrating its twentieth anniversary in 2017. But the second, known as the Winspear Completion Project, was always part of the vision. The 40,000 square foot project, to be built in the parking lot behind the existing building, is a community music centre, which will feature a 550-seat, multi-use acoustic hall, and a wide variety of programming space not just for professional musicians, but for all in the community who want to make music a part of their lives.
This would include more participants for programs already crammed into limited public spaces at the Winspear, such as Music Box Babies, a program for children up to three years old that uses music to build bonds between parents and children. Another is the Parkinson's Jam Session, which pairs amateur musicians with Parkinson's disease with members of the Edmonton Symphony Orchestra for fun and support.
"We feel reaching out to the health and wellness community is important," says Kenny Gardhouse.
The $53 million Completion Project would also house a daycare, and a home base for the Tommy Banks Institute for Musical Creativity. Local choirs, music fans and families will be able to visit the Completion Project often, because it will be open to the public and offer all-day, interactive programming on an ongoing basis.
"We are working to build it as a hub with a hum," says Kenny Gardhouse.
Annemarie Petrov, executive director of the Edmonton Symphony Orchestra and Francis Winspear Centre, says they have been asking for funds from all three levels of government for quite some time. So far, the municipal and the federal governments have indicated support of $13 million each. But all three levels of government must participate to trigger the funding. The Winspear must also raise $14 million for the centre, which would be unique in Canada.
"Much like the Telus World of Science is to science, and what the library is to books and literature, that's what we are to music," says Petrov, who is working with Stantec and other design experts on plans. "There is so much good that comes from active participation. So much of what it means to be human is expressed in music."
In 2015-16, through the Alberta Foundation for the Arts,  the government of Alberta awarded about $23 million to arts organizations and individual artists through 978 operating and project grants.