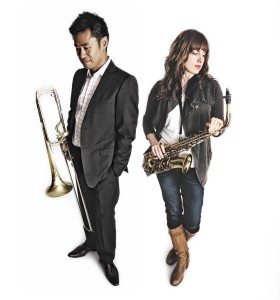 The Carn Davidson 9 was formed at the beginning of 2011 as a collaborative project between JUNO Award nominated artists, trombonist William Carn and saxophonist Tara Davidson. As leaders of their own small jazz groups, Carn and Davidson have each released three CDs, all entirely comprised of their own original material. This collaborative project is an opportunity for both artists to "reimagine" their compositions for this chamber jazz instrumentation, shining new perspective on their existing repertoire. This 9-piece chord-less ensemble utilizes its seven horns as both melodic and harmonic devices, anchored by bass and drums.
The Carn Davidson 9's unique sound is made stronger by an all-star lineup of prominent Canadian artists who are all exceptional ensemble players as well as outstanding soloists.  The CD9 has already been featured at Toronto's Rex Hotel Jazz Bar and the Toronto Downtown Jazz Festival.  In the Fall of 2012, the group  released their debut recording, 9, on Toronto's Addo Records.
Trombonist WILLIAM CARN has emerged as one of Canada's leading contemporary jazz composers and performers.  His debut release, Other Stories, was nominated for a 2007 Juno Award as Traditional Jazz Album of the Year.  He has also been nominated for Trombonist of the Year at the National Jazz Awards from 2004 to 2008.  He has performed and recorded with jazz artists including Rob McConnell, Randy Brecker, David Binney, Kenny Wheeler, Ingrid Jensen, Tim Hagans, Barry Harris, Carla Bley, Steve Swallow, Vince Mendoza, Don Braden, Mike Murley, and Hilario Duran. William also enjoys a diverse freelance career and is a regular member of the Stratford Shakespeare Festival orchestra.  William is a RATH Trombone artist and is an instructor at Humber College and the University of Toronto.
Toronto-born alto and soprano saxophonist TARA DAVIDSON has performed around the world at such prestigious venues as New York City's Carnegie Hall, the acclaimed North Sea Jazz Festival in the Netherlands, the International Jazz Festival in Lima, Peru, and The Kennedy Center, in Washington, D.C.  She has produced three recordings as a leader since 2003 and performed on over a dozen recordings as a side person.  Davidson's sophomore CD, Code Breaking, was released in the fall of 2006 and featured JUNO award winners, Mike Murley (tenor saxophone) and David Braid (piano).  The 2008 JUNO Awards nominated Code Breaking for "Traditional Jazz Album of the Year". Davidson's most significant musical influence has been saxophonist Mike Murley with whom she studied for five years and she is a graduate of the prestigious University of Toronto Jazz Performance Program.  Davidson is an instructor at York University in Toronto, ON.
William Carn – trombone
Tara Davidson – alto & soprano saxes & flute
Kelly Jefferson – tenor & soprano saxes
Perry White – baritone sax & bass clarinet
Jason Logue – trumpet & flugelhorn
Brad Eaton – trumpet & flugelhorn
Alex Duncan – bass trombone
Dan Fortin – acoustic bass
Ernesto Cervini – drums

Date/Time
Date(s) - 17/12/2016
8:30 pm - 11:30 pm
Location
The Jazz Room
Category(ies)