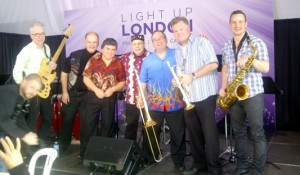 Alfredo Caxaj is a multi-talented musician. Originally from Guatemala, he has been living in London for the past 16 years and has become a vital member of the community.He has formed many musical groups, and is also the founder of London's world music festival "Sunfest." Alfredo teamed up with the writing skills of Peter Hysen to form this 7 piece ensemble, which focuses strictly on Latin Jazz.
All of its members are part of London's thirteen piece salsa band "Herencia Latina," which has performed at various prestigious festivals and events such as the International Freedom Festival in Detroit, the Kitchener-Waterloo Jazz Festival, the International Hispanic Fiesta at Harbourfront Centre in Toronto broadcasted by CBC, SUNFEST and with the Kitchener-Waterloo & London, Ontario Symphonies.
We will draw for a ticket to the Jazz Room New Years Eve bash during the show!
Here is the ensemble at Aeolian Hall in London
Steve Holowitz – Piano
*Paco Luviano – Bass
*Rob Larose – Latin Percussion
*Alfredo Caxaj – Latin Percussion & Vocals
*Steve McDade – Trumpet
*Dave Wiffen – Sax
*Peter Hysen – Trombone/Musical Director

Date/Time
Date(s) - 25/11/2016
8:30 pm - 11:30 pm
Location
The Jazz Room
Category(ies)