Remember when you used to listen to an entire album? Classic Albums Live does.
"All of our focus is put into the music," says Martin. "We don't bother with imitation or impersonation. The bands are big — upwards of eleven pieces. We research these albums and go to great lengths to reproduce each and every sound live. We never use tape or computers. We'll bring in a children's choir, a sitar player, a string quartet, what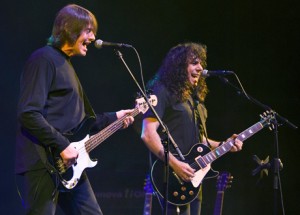 ever it takes to get it right."
Crime of the Century was Supertramp's commercial breakthrough on both sides of the Atlantic, aided by the UK hit "Dreamer" and the U.S. hit "Bloody Well Right". It was a UK Top 10 album and a U.S. Top 40 album, eventually being certified Gold in the U.S. in 1977. Crime of the Century deals loosely with themes of loneliness and mental stability, but is not a concept album. While recording the album, Davies and Hodgson recorded approximately 42 demo songs, from which only 8 were chosen to appear on the album.
Hear this iconic album recreated live on stage, note for note — cut for cut.

Date/Time
Date(s) - 22/10/2015
8:00 pm - 11:00 pm
Location
Centre In The Square
Category(ies)