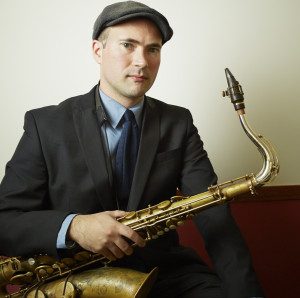 Jonathan Lindhorst is a Berlin based saxophonist and composer who is not only an active member of the Berlin jazz and free improvised music scene, but also plays regularly in New York and in his home country of Canada. In addition to leading his own band The Limerence Quartet, he is a member of Innocent When you Dream: The Music of Tom Waits, The Berlin Soundpainting Orchestra, and Turtleboy.
Growing up outside of Toronto, Canada, Lindhorst was surrounded by music thanks to his father's enormous record collection. By the time he picked up the saxophone at the age of 11, he had spent most of his life absorbing a wide variety of jazz, pop, rock, and classical music. In 2001 he moved to Montreal to pursue a bachelor's degree in jazz performance at McGill University's Schulich School of Music. After years of being an active member of the Montreal jazz scene, Lindhorst relocated to Brooklyn, NY, where he completed his studies with a Masters Degree from the Aaron Copeland School of Music CUNY while studying with Antonio Hart, Bill McHenry, Ohad Talmor, John McNeil, and Tony Malaby.
Jonathan and his band – Turtleboy completed two residencies at The Banff Center for the Arts, where they had the opportunity to perform alongside  saxophonist Joshua Redman.
Lindhorst has performed at numerous venues and festivals throughout North America and Europe, including the North Sea Jazz Festival, The Montreaux Jazz Fest, and the L'Off Festival de Jazz a Montreal, and alongside such great musicians as Christine Jensen, Anne Mette Iversen, Tobias Meinhart, Phil Donkin, Sebastien Ammann, Dan Peter Sundland, Aaron Shragge, Eyal Lovett, Alexander Maksymiw, and Peter Van Huffel to name a few.
Jonathan Lindhorst – Saxophones
Don Scott – guitar
Dan Fortin – bass
Nico Dann – drums
Here is Jonathan with "The Tyromancer"s Apprentice"  This music has that open European/Scandinavian Jazz feel…..
Map Unavailable

Date/Time
Date(s) - 15/10/2016
8:30 pm - 11:30 pm
Location
The Jazz Room
Category(ies)