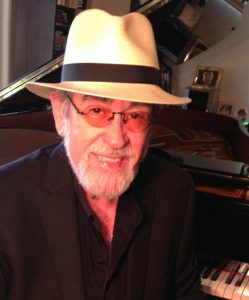 Roger Kellaway is a giant of modern American music. An incomplete list of his many accomplishments includes:
Academy Award Nomination, Film Score – "A Star is Born", Barbra Streisand Director
Grammy Award  -"Memos from Paradise" with Eddie Daniels
Honorary Doctorate – New England Conservatory of Music 2010
Grand Prix du Jazz (Record Of The Year) for "Duke At The Roadhouse " with Eddie Daniels 2014
Music Director – Bobby Darin
Music Director – "A Tribute to Oscar Peterson" Carnegie Hall 2007
Music Director  – Tony Bennett
Music Director – Kevin Spacey "Beyond the Sea" tour
Music Director – Van Morrison "Astral Weeks Live at the Hollywood Bowl"
Composer – London's West End production of "Lenny" starring Eddie Izzard, directed by Sir Peter Hall.
The list goes on. Don't miss this one.
Roger Kellaway – Piano
Terry Clarke – Drums
Neil Swainson – Bass
It's not jazz, but here is is Roger running this amazing band from behind the piano – Van Morrison "Astral Weeks"
Roger and Gene Harris – "Senior Blues"

Date/Time
Date(s) - 16/10/2016
4:00 pm - 7:00 pm
Location
The Jazz Room
Category(ies)