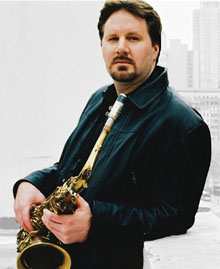 DownBeat Rising Star Annual Critics Poll 2015!!!!
"Besides being graced with clarity in tone, originality and fluent, assertive phrasing, saxophonist Russ Nolan is a rhythm master." — Owen McNally, WNPR News

Russ Nolan's music is often described as High-Energy Modern Jazz that both satisfies the intellect of its musical peers and speaks to everyone on a soulful level. Called a 'renaissance man' by those close to him, he has taken his experiences in sports, martial arts, business, after-school program volunteering, music education, and other activities to relate to a wider audience.
Russ is an accomplished and active Salsa dancer in NYC and has used his inspiration on the dance floor to craft his last three Latin and Modern Jazz releases Tell Me (2012) ; Relentless (2014) – featuring Latin Jazz Grammy Nominee Manuel Valera on piano; and current recording Call It What You Want (2015).
His original compositions draw influences from Herbie Hancock, Wayne Shorter, Bill Evans, Chick Corea and are infused with Afro-Cuban, Samba, Bossa Nova, Bolero, and Mambo rhythms. Russ' ability to relate to non-jazz audiences is demonstrated in his jazz treatments of Pop Standards from The Beatles, Michael Jackson, and Stevie Wonder.
Russ Nolan – Tenor Sax/Compositions/Arrangements
Jeremy Ledbetter – Piano
Brendan Davis – Bass
Daniel Barnes – Drums
Here is Russ at Small's NYC.
At the Jazz Room with "Stolen Moments" and samples from a number of other tunes.

Date/Time
Date(s) - 03/10/2015
8:30 pm
Location
KW Jazz Room
Category(ies)