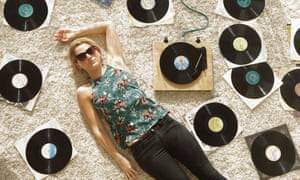 "I'm going to turn some lights off now – enjoy your session."
Jean-Philippe Ducharne, an organiser of Classic Album Sundays, is speaking to a room of strangers in a Sydney bar, poised to hear Lauryn Hill's 1998 album The Miseducation of Lauryn Hill. In full, on vinyl, no chatter.
People recline on pillows and slouch on couches, but still, you can feel it. The collective uncertainty. An edge of entrapment. The album is 70 minutes long. What are the rules again, exactly? "Think of it like a movie," says co-organiser Jim Poe.
This is the Sydney chapter's fifth listening session, although the now-global event has been running for six years in London. It was founded by New Yorker Colleen Murphy who "wanted people to hear music … contextually, communally, uninterrupted and in the best sonic detail possible". In London, listening cafes are popping up left and right. Londoners, I suspect, are better at the uninhibited embrace of such concepts than antipodeans quick to wince at any whiff of wankery.
Hill's extraordinary neo-soul rap record soundtracked a seminal year for me. I was living in an African American neighbourhood in Oakland and studying political science at University of California, Berkeley. Her album sold more than 19 million copies. I didn't own the CD; I didn't need to. Her songs were everywhere.
Yet the fact the Classic Album Sundays concept is just that – a concept – has got me sulking. Have we drifted so far from deep listening that it's been dredged up and sold back to us as a price-tagged novelty? Do we really need a themed event to usher us through the inner world carved out by music?
Classic Album Sundays was the messenger I wanted to shoot. But 70 minutes after I arrive I'm a convert.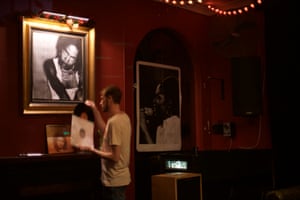 Organisers are still setting up when I get there. They're making the cosy upstairs room at World Bar in Kings Cross cosier still, and lighting incense. A Hill-themed playlist is on: Erykah Badu, Mary J Blige and D'Angelo. It's like arriving early to a house party, but you paid so you don't have to help.
Both Ducharne and Poe are DJs. No spring chickens. They've been lugging scuffed crates of records from venue to venue for decades – you can tell. In a week when the bloviating pitch document of Fyre Festival was leaked online, they're the dose of authenticity any vaguely ambitious event brand needs.
Poe knows Murphy from the 90s New York underground house scene. The incense, he says, is her touch. "Small details are very important to Colleen."
Ducharne says he found the 1982 Klipsch speakers – making their debut tonight – on Gumtree. He collected them from a "man cave" behind a bakery in Maroubra. I value good sound, I say, but people fetishise equipment too much. My best early experiences were listening to mixtapes through puny speakers in my Datsun 120Y. He agrees – up to a point. "When you play birdsong to birds on vinyl, real birds sing back. They don't sing if you play a digital file."
Guests are seated facing the hi-fi. Poe introduces us to a Roksan Radius 5 turntable, a Roksan K3 amp and the baker's speakers. Top-quality sound is part ofMurphy's manifesto: "I wanted to share the experience … on a world-class audiophile hi-fi so fans could experience the music as close as possible to the artist's original intention."
A natural showcase for high-end gear, the Classic Album Sundays concept easily lends itself to sponsorship – but it equally could be viewed as egalitarian: a cheap way to hear an expensive sound. Like having a rich friend happy to lend out their yacht if everyone chips in for nibbles.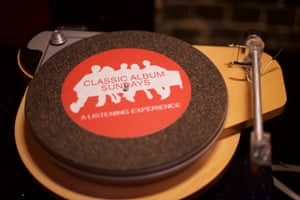 The needle finds the groove, and depth and crispness leap out. It must be startling for those used to compressed files. The beats are more thunky than deep and the production piles on and peels off in layers. Two black-and-white posters of Hill flank the stereo. In the middle is a third photo of her staring right at us. Smoke spirals up from a stick of incense. It's a shrine to music and its medium.
When the horns rain down at the start of Doo Wop (That Thing) I pray people won't stand up to (silently) dance. I only dance when a set of circumstances unfold that are impossible to procure or predict. To my relief, meek seat dancing prevails in what proves to be a safe space for non-dancers.
Hill wrote and produced The Miseducation when she was 22 years old and pregnant with her first child to Rohan Marley (son of Bob). Best of all, tonight, is how the spirit of young Lauryn Hill rules the room, free of all that'shappened since. I'm filled anew with respect for her fearsomely good rap skills, how boldly and baldly she threw shade, and how pioneering it was to sing about abortion, pregnancy and the love of her baby boy on To Zion. Listening collectively heightens my admiration, like I'm feeling it in multiple.
And of course, I'm taken back. Hill's first words on the record – "It's funny how money change a situation" – sum up a year during which globalisation became a household word; when declining a ride north from Berkeley to the Battle of Seattle still feels like one of my biggest mistakes.
Classic Album Sundays may appear to combat modern "shuffle culture" – and it does. That's why it has been popular enough to spread to cities including New York, Tokyo, Berlin and Los Angeles. But there has never been a golden age for deep listening. Events like this have always existed to remind us to nourish our most starved sense: hearing.
As Brisbane label owner and sound artist Lawrence English told the Guardian: "Anyone reading this now is actively filtering out 90% of the things going on around them … We need to invest as much in sound as we would any other sensory experience we want to draw meaning from."