http://www.therecord.com/whatson-story/6760860-grateful-drummer-spreads-around-the-honour-for-the-mel-brown-award/
By Terry Pender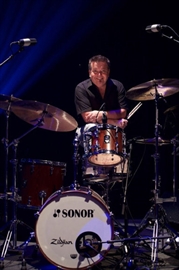 KITCHENER — The drummer Jimmy Boudreau will receive the Mel Brown Award during the 2016 Kitchener Blues Festival next month.
"It's awesome, I am so flattered that the blues festival has recognized me with this award, more so that Mel's name is on it," Boudreau says. "I was closer to Mel in some ways than with my own father."
Boudreau was the time keeper in Mel Brown and the Homewreckers from 1993 until Mel passed in 2009.
During that time, he played on no fewer than 10 recordings for the Toronto blues label Electro-Fi Records. Those recordings won one Blues Music Award (formerly W.C. Handy Awards), two Blues Music nominations and two Juno nominations. Boudreau's drums are heard on the final recordings of Mel Brown, Snooky Pryor and Sam Meyers.
The Kitchener Blues Festival is billed as the largest free blues festival in Canada. The festival's inspiration was Mel Brown, the soul-funk-jazz-blues-fusion guitarist from Jackson, Miss., who lived in Kitchener for the last 20 years of his life before passing in 2009. His musical spirit pervades the annual celebration of the blues.
His group, Mel Brown and Homewreckers, were the house band at Pop the Gator from 1989 to 1994. Boudreau joined the Homewreckers not long before the Gator closed its doors. But the band never stopped playing and recording.
"When somebody gives you an award, I am not used to it drawing attention to me," Boudreau says. "I really want to share it."
The humble, soft-spoken musician then names the people he wants to share the award with, musicians who played and jammed with Brown during his years in Kitchener — Mervin Campbell (drums), Scott Urquhart (guitar), Shawn Kellerman (guitar), Randall Coryell (drums), Leo Valvassori (bass), John Lee (keyboard), Al Richardson (bass) and Dave Wiffen (tenor sax).
"Everybody forgets about Wiffen, but he was the only sax player Mel would hire in Canada," Boudreau says.
Boudreau was born and raised in Sudbury, the son of an Inco welder, growing up in the Minnow Lake neighbourhood near First Avenue and Bancroft Drive. From the time he was 10, Boudreau played in a drum corps called the Blue Saints. He won national awards for his snare playing and attended LaSalle Secondary School because it had the best music program in Sudbury.
"I knew I wanted to be a musician," Boudreau says.
Boudreau learned to play jazz at LaSalle Secondary. Then he moved south to study jazz drumming at Toronto's Humber College from 1983 to 1986. Soon after graduating from Humber, Boudreau was hired as the drummer for The Kats, one of the house bands at Lulu's Roadhouse.
"That was a great gig, right out of school," Boudreau says. "I really grew a lot there."
The Kats backed headliners who came to town without their own bands. So Boudreau found himself playing with the likes of Chuck Berry, the Mamas and the Papas and The Drifters.
"That's where I cut my teeth on playing pop music," Boudreau says.
Mel Brown and the Homewreckers came together during the winter of 1989-90. It was the house band at Pop the Gator on Queen Street South, a legendary venue that closed in 1994.
Boudreau would sub for the band's regular drummer, Randall Coryell, who would go on the road with Alannah Myles. Boudreau was highly recommended by the Homewrecker's bass player, Leo Valvassori.
When Coryell gave up the drummer's stool for good, Boudreau took over and never left.
In addition to gigging and recording with the Homewreckers, Boudreau played with the country outfit Little Rock. That experience led him to one of his current gigs, keeping time for The Western Swing Authority.
Boudreau also plays around North America with a nostalgia act out of Hamilton that plays James Taylor, Carole King, Harry Chapin, Billy Joel and the like, often backed by orchestras.
With a wide green, Boudreau likes to say, "This town owes me nothing." From the time he finished studying at Humber College to this day, he played the drums for a living in Kitchener. And while undergoing cancer treatment, Boudreau developed a deeper appreciation for the city's music scene.
"People I didn't know were coming up to me and offering support, because they knew me through Mel," Boudreau says. "They would follow me on Facebook just to make sure I was OK."
Cancer-free for five years now, Boudreau marvels at how the music fans in this region make it possible for people like him to live and work here as professional musicians.
"This is all I have ever done since I left Humber and started with The Kats band at Lulu's, and it's never stopped," Boudreau says.
Boudreau's constant emotional partner is his wife, Ginette.
"It just seems to me that a lot of really great, important things have happened to me, business and not business, and I don't think it's a coincidence that they have happened since she came into my life," Boudreau says.
They married in 2008, about a year before Mel passed.
"We buried Mel on our first anniversary in 2009," Boudreau says. "As soon as I played the funeral, we got in the car and drove to Niagara-on-the-Lake. We had plans to celebrate our anniversary there."
Terry Pender covers business and can be reached via Twitter @PenderRecord
Previous winners of the Mel Brown Award:
* 2003 — Mel Brown
* 2004 — Glenn Smith
* 2005 — Jackie Washington
* 2006 — Cheryl Lescom
* 2007 — Shawn Kellerman
* 2008 — Andrew Galloway
* 2009 — Steve Strongman
* 2010 — Bruce Iglauer
* 2011 — Jimmie Vaughan
* 2012 — John McKinley
* 2013 — Bobby Blue Bland
* 2014 — Buddy Guy
* 2015 — Charity Brown