By Coral Andrews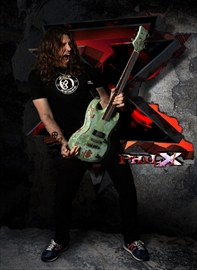 Guitarist's-guitarist Phil Xenidis a.k.a. "Phil X" has rocked the world's stadium stages from North America and the U.K. to South Africa and Australia playing for thousands as Bon Jovi's electrifying axe player. But he "really cut his teeth" in Kitchener.
"Friends from Bluevale Collegiate would have house parties just so we could play," says Xenidis, who then lived in Toronto. His pal, drummer Scott Masterson, moved to Kitchener.
"Scott's whole family was on board. His mom and dad would let us rehearse in their basement and I think his brother built us a lighting board," he says. "Kevin Gingrich (Full-Length Mirror) was also a huge part of my early artistic development. He switched from guitar to bass. We would create crazy parts to play in originals plus he had a van so that came in handy for gigs," adds Xenidis with a laugh.
Every weekend, Sidinex (Xenidis spelt backwards) would play house parties and high schools showcasing heavy metal music of the day from Judas Priest to Black Sabbath and Van Halen.
They met singer Todd Farhood through a basement jam as the band began opening at local shows for acts like Lee Aaron and Nazareth. They released 1985 EP "Forever Young," changed their name to Flip City, and then disbanded.
But it was only the beginning for guitar-slinger Xenidis, soon asked to play with other Canadian bands from Frozen Ghost to Triumph, as his musical career began to soar. He became the go-to session guitarist working many artists from Avril Lavigne and Daughtry to Alice Cooper, Tommy Lee, Rob Zombie, and Bon Jovi.
Xenidis, who is Greek-Canadian, says he got into music because of his late father, Peter, who played a Greek instrument called the bouzouki.
"He was the proverbial life of the party so I don't know if he just wanted accompaniment or to pass the torch, as they say. I just remember him being the proudest father around as I excelled on the guitar," says Xenidis. "My first guitar was a copy of a Vox hollow-body teardrop-shaped electric. I could barely hold it as I was five years old. But that investment was a testament to my dad's enthusiasm towards me playing music. Guitar was always my main thing but I got into bouzouki to really get my hands more in sync. It was a more difficult instrument to master but when I went back to guitar, my picking and articulation was insane!" he notes, citing childhood rock heroes as Ted Nugent and Black Sabbath, plus Eddie Van Halen for his "inventiveness, recklessness and incredible timing."
Rather than formal vocal training, Xenedis concentrated on his unique Vox strengths. Chalk up that now-signature Phil X scream to a natural rock and roll osmosis, which came in very handy on You Tube.
Bon Jovi producer John Shanks (Melissa Etheridge, Fleetwood Mac, Take That) watched a few of Xenidis' music videos. He was in search of a substitute player for Bon Jovi lead guitarist Richie Sambora.
"Shanks called JBJ, recommending me as "the guy" who could "play and sing anything." It was all managers and lawyers for some time while I "speed learned" a two-and-a-half-hour show. Then on April 14, 2011, Jon Bon Jovi called. I've joked with fans about it being like answering the Bat-phone," he notes.
Xenidis ("always a huge fan") remembers seeing Bon Jovi in Toronto at the CNE Grandstand.
He says "Livin' On A Prayer" and "Wanted Dead or Alive" are some of the best rock songs ever written.
"At this point I've done over 100 shows and I still get goose bumps when I kick in with the talk box for "Prayer." It's surreal," he notes, adding he played on four songs for upcoming Bon Jovi release ("This House is Not for Sale") and will likely tour again.
In addition to rock-and-roll star status, Xenidis has become a savvy social media cyber guru thanks to director/cameraman Dustin Jack, and Fretted Americana store owner David Brass. You Tube video series "Phil X Friday" (filmed in the store) features Xenidis performing for millions on many rare and vintage guitars.
His own rock band The Drills features "left wing and the glue" Daniel Spree on bass and current drummer Matt Starr. He says they are "Spinal Tap in the drum department" and featured 10 musical pals/drummers including Tommy Lee (Motley Crue) and Glen Sobel, (Alice Cooper) for an upcoming documentary.
At one point, Xenidis offered guitar lessons through Skype. And for "Those About To Rock" or YouTube sensation wannabes, "Don't believe in shortcuts. Practise. Practise. Practise. Before you can kick anyone's ass, you have to kick your own," he said.
He's super excited about The Rhapsody show, literally coming home, thanks pal drummer Paul Hoffman who will join him with (Drills) bassist Daniel Spriewald. Xenidis likes to riff out with his old KW pal Hoffman whenever he can. Expect some of their fave covers, Drills tunes, and a few more surprises.
"We have a lot of fun," he says. "I hope faces from the house parties all those years ago show up. It's going to be a blast! Except now we're all old!"
Phil X
Rhapsody Barrel Bar
179 King St. W., Kitchener
Saturday, July 23
8 p.m.
$20
www.rhapsodybarrelbar.com
www.philxfanclub.com