http://www.therecord.com/whatson-story/6200528-versatile-duo-set-for-holiday-show/
By Coral Andrews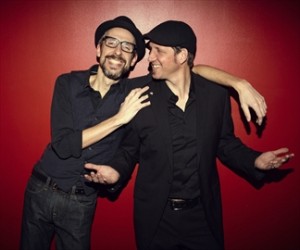 Sixteen-year-old co-op student Steve Strongman met 18-year-old Rob Szabo at Kitchener's Sherwood Music back when Szabo was running the guitar department.
The rest is Canadian music history.
Strongman and Szabo have garnered many Canadian music awards for their work over the years from Toronto Society Blues Awards, Canadian Folk Music Awards, and multiple East Coast Music Awards. Strongman won a Juno Blues Recording of the Year, and Szabo Producer of the Year for 2013's "A Natural Fact." The pair received the same Juno nod for Strongman's 2015 release "Let Me Prove it to You."
Both are merrily evolving in their lucrative solo careers.
Szabo and Strongman are now co-writing Strongman's next CD, with Szabo co-writing and producing bands in many genres from pop-synth to heavy metal.
But right now the dynamic duo is rehearsing for their annual holiday show at Starlight.
"This is our 11th annual if you can believe that," exclaims Szabo. "It's crazy and it's funny because that is how it started. Steve and I have played in bands together around Kitchener and Waterloo for decades. There was a certain point where we were not seeing each other that much and we thought it would be a good excuse to get together and play music because that's our favourite thing to do together. Next thing you know it's 11 years later and people still come to see us, so we are not complaining. We think it is great," says Szabo from their remote rehearsal hall space in Ancaster.
"Our writing partnership has been evolving since we met. Our years playing as an acoustic duo in the '90s played into that," he notes. "I was playing in the (funk/rock group) Groove Daddys (with Jeff Cowell and Paddy Flynn) for several years. Steve at the time was playing in (rock band) The Longfellows which morphed into (power rockers) 100 Mile House. We often played together at co-bills, when we were working on our own bands. But then Steve and I started playing in (alt-pop band) Plasticine," he recalls.
"Obviously through Plasticine we were writing and co-producing those records together (and after the record label folded) our solo careers went their own ways. Steve and I both did a few records before we started working together on our solo stuff. I guess this is a long-winded answer. Maybe Steve should take over," says Szabo laughing.
"For me it was a very natural progression," notes Strongman. "(After Plasticine broke up) I was working as a side guy with (Hamilton rock fusion band) Kazzer at the time and I really wanted to focus on a solo career," says Strongman, who by then had been turned onto the blues by veteran/mentor Mel Brown.
"So I had my first (blues) record "Honey" which came out in 2006," says Strongman. "The whole time, Rob and I were best friends. We have always continued to work together. It just seemed to make sense to me. I came to Rob and we started doing a lot of writing together and I wanted him to produce."
Strongman and Szabo, who have known each other just over 20 years, have an easygoing back and forth.
"Rob's a pretty funny guy," notes Strongman as they both laugh. He adds the main reason for their closeness comes from working together on the music, having fun, and trusting each other.
Based on past audience feedback, the holiday show will not have any Christmas songs, so expect special surprise guests and a musical blast from the past à la Groove Daddys.
"One thing I will say," says Strongman. "As our careers move forward we always introduce the material. For example, the Juno Award-winning CD ("Natural Fact") that Rob produced, adding some material from that into the Christmas show. Everything that we do is very intertwined. So every year the show has progressed more with material that has come out that year or the previous year."
Steve Strongman and Rob Szabo
11th Annual Holiday Show
Starlight
47 King St. N., Waterloo
Saturday, Dec. 19
Show 8:30 (sharp) to 10:30 p.m.
$19 advance, $25 door
19+
www.starlightsocialclub.ca