http://www.therecord.com/whatson-story/6199616-walking-in-a-weidinger-wonderland/
By Neil McDonald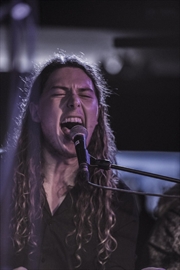 For Matt Weidinger, 'tis the season to wrap up another busy year of music.
The 22-year-old Kitchener musician is hosting his third annual Christmas show at The Jazz Room in Waterloo this Sunday, and said the idea originally came about as a way to wind down from all the loud rock shows he plays throughout the year.
"I do a lot of work with full band stuff and at the start of it, I thought, 'Well, it would be really great to do a show where it's a bit more intimate, and I would have the grand piano there and people could sit down and have some drinks,' not really the rock kind of thing, you know?" he said in a phone interview this week.
This year's show will feature Weidinger performing original material and some covers (including a couple of Christmas tunes) both solo and with a full band, and will also include special guests Cheryl Lescom, Jon Knight, as well as appearances from other local musical friends who Weidinger said will "pop in and do some songs."
The afternoon show will wrap up a typically busy year for Weidinger. In addition to weekly residencies at the Lancaster Smokehouse in Kitchener and the Duke of Wellington pub in Waterloo, he also performs occasionally with Jon Knight and Soulstack, plays organ and sings in the Mad Dogs and Englishmen tribute to Joe Cocker, and is also a member of the backup band for '80s rocker Lee Aaron.
Weidinger said he's "pretty much been playing every night of the week for the last year-and-a-half or so," a hectic schedule that nevertheless helped him purchase his first house a couple of months ago. Not bad for a guy who decided to become a professional musician while still in high school.
"The last real job I had was working at a grocery store when I was 16, and I've been playing music full time ever since," he said.
Weidinger continued: "I didn't really have anything else going on and then when I found music, it was, 'OK, this is what I'm going to do, this is all I can really do.' So I just worked as hard as I could at that and it's just taking opportunities when they come up and trying to keep myself in a good place, and that's where it's got me."
Weidinger has plans to build a home studio in his new house, and hopes to begin recording an album early next year.
"That's the game plan. I've got the piano, I've got a Hammond B3, I've got all the equipment I need," he said. "I think one of the possibilities is that in the new year (I will) maybe look at doing a record in the house, because there's quite a bit of room in here and I think we could make it happen."
Along with buying his first house, Weidinger said a highlight of the past year was getting to jet around the country to perform shows with Aaron on bills featuring fellow Canadian classic rockers such as Prism and Honeymoon Suite.
"This was the first year I got to do some flying to go to a gig. I've done quite a bit of driving, but this was the first year that I got paid to go fly out somewhere and play out of Ontario, so that was a big thing for me, that felt really good," he said.
As for gifts he'd like to see under the tree this year, Weidinger said he has no specific requests.
"Not really, other than maybe a mortgage payment," he said with a laugh, adding that his Christmas show is a great way for him to see out the year with friends in a unique atmosphere.
"I call it a Christmas show because it's around Christmas, but one of the big reasons I like doing the show at this time of year is because people have time off work, and especially doing it on the Sunday afternoon, it gives people an opportunity to come out and maybe see a show that (they) wouldn't have the opportunity to come out (and see) later if they don't like going to the bar real late. So that's actually the thing I enjoy most about it, is being able to have a show where people can come out and it's a different vibe. And that's the best present of all for me, just being able to play with my friends and make great music and have a good time."
Previous Christmas shows have sold out, Weidinger said, though fans can still check Encore Records in Kitchener, Orange Monkey in Waterloo or Ticketscene online for tickets.
Matt Weidinger Christmas Show with Cheryl Lescom, Jon Knight, and special guests
The Jazz Room, Waterloo
Sunday, Dec. 20
$15 advance
Doors: 2 p.m.; show: 3 to 6 p.m.
mattweidinger.com