http://www.fyimusicnews.ca/articles/2017/10/02/604-records-hilarious-bid-juno-award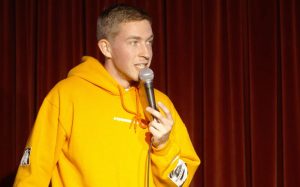 604 Records is on a roll in its bid to win Comedy Album of the Year at the 2018 Juno Awards in Vancouver.
The successful west-coast imprint irreverently calls itself 'Canada's greatest indie record label' and has had an enviable run of success with a roster that includes Marianas Trench, Dallas Smith, Theory of a Deadman, Coleman Hell, and Carly Rae Jepsen.
It is also a production company run by a couple of seriously funny guys, namely music lawyer Jonathan Simkin and his longtime friend, Nickelback's Chad Kroeger.
Earlier this year, Simkin went on a crusade to reinstate the Juno Award Comedy album category, and he succeeded. It was part of a strategy to boost the profile for a riot of comedians 604 is now working with.
Among them is Vancouverite Gavin Matts who was crowned the winner at the eighth annual SiriusXM Top Comic competition last week at the Toronto Finale, as part of JFL42.
Matts' first comedy album Premature was synched to the event and quickly shot to #1 on the iTunes Comedy chart last week.
TV special JFL: All Access, to air on The Comedy Network.
Joining the comedy release schedule in the next several months are recordings by fellow Vancouverites' Kyle Bottom, Charlie Demers and "smutty songstress" Shirley Gnome —all to be available through iTunes, Apple Music, Spotify, Amazon and streaming services.