http://www.therecord.com/whatson-story/6408658-honouring-rosalie-trombley-the-girl-with-the-golden-ear-/
Bob Seger wrote a song about her. Now the Juno Awards pay tribute to Rosalie Trombley, the Windsor radio trailblazer who 'could smell a hit a mile off'.
OurWindsor.Ca
By Linda Barnard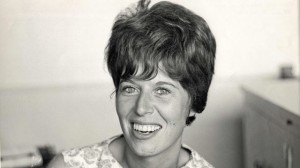 At a time in the music industry when women were more likely to be asked to make coffee than executive decisions, Rosalie Trombley was a hit-predicting force.
On April 2, "the girl with the golden ear" will be honoured with a special Juno Award at a Calgary gala as tastemaker and trailblazer in Canadian and American music.
Poor health prevents Trombley, 76, from attending but her three children will accept the award on her behalf.
Trombley became music director at Windsor's Top 40 rock radio powerhouse "The Big 8," CKLW-AM in 1968 — a key job at an influential station that had enormous reach into U.S. markets.
Her oft-proven ability to instinctively know what made a hit record ensured airplay for Canadian artists on the cusp of bigger careers, including Gordon Lightfoot, Bachman Turner Overdrive and The Guess Who, along with Burton Cummings' solo career, during a time that preceded Canadian content rules, as well as after.
American acts also benefitted from her golden touch.
"She's got the power," sang Detroit rocker Bob Seger in "Rosalie," the song (covered by Irish rockers Thin Lizzy) he penned for his 1973 album Back in '72 after he and Trombley didn't see eye to eye on his potential. Seger's song takes her to task but also conveys respect, along with the observation, "she's quite the mediator, a smoother operator you will never see."
Canadian band The Sheepdogs released their cover of "Rosalie" as a digital download on March 25 — with proceeds going to the Rosalie Trombley Scholarship at Windsor's St. Clair College.
Impressed with stories of a Windsor woman's influence on American music, The Sheepdogs started playing "Rosalie" about a year ago. With Trombley's Juno recognition, the band wanted to give something back in return for her contributions to music and decided to do the special release.
And she did have great influence. Trombley was legendary for her ability to recognize a song that would have "crossover" appeal between black and white audiences. It paid off for Elton John, who had been "told about her ears," along with her hit-predicting abilities. He took her advice to release "Bennie and The Jets" as a single, said Trombley's eldest son Tim Trombley, 57. It became a smash for the British artist.
A music fan, who started out as a receptionist at CKLW in 1962, Trombley could smell a hit, her son said proudly. More than instinct, there was also a science to it. She compiled detailed record sales-tracking information and used that to determine what tunes would be crossover hits, "from Parliament Funkadelic to Neil Diamond," he explained.
"My memory as a young kid was going down to the radio station every couple of weeks and walking in and it was an incredibility exciting, dynamic, high-energy atmosphere," said Trombley, who worked for EMI Music Canada prior to his current job as director of entertainment at Caesars Windsor.
"Just walking into her office with all the records, it was so, so exciting," he recalled. "I knew in pretty short order that mom had a pretty cool job."
Former MuchMusic host and Sony Music Canada president Denise Donlon is a past recipient of The Rosalie Award, named after Trombley to honour female industry trailblazers. Fittingly, Trombley won the first one, in 2005.
It wasn't until Donlon won the award in 2010 that she learned about Trombley's influence.
"She was a pioneering woman in Canadian radio management and one of the most powerful programmers ever," said Donlon. "The gobsmacking thing was I didn't know about her."
But Donlon soon became aware of the woman she praised for her ability to "smell a hit a mile off."
Donlon says the music industry needs to take "more great strides" involving women, crediting artists like Sarah McLachlan for starting Lilith Fair in 1997, which showed radio the drawing power of women artists.
When his mother was making decisions, "there were virtually no women in positions of influence and power in broadcasting . . . on the record label side as well," explained Trombley, crediting her with mentoring other women who wanted to get into the music business during her more than 20 years as a radio executive.
Allan Reid, president and CEO of CARAS and The Juno Awards, said recognizing Trombley will help inspire young women working in broadcasting. "This is someone who helped pave the way," he said.
"That golden ear is rare," agreed Leah Fay, lead singer of indie band July Talk. Acknowledging Trombley is part of an ongoing need to talk about women music makers.
"I tend to think that there were likely women who were more than just muses in the '70s when it came to figuring out what was cool and influencing what was going on," said Fay.
"I'm really glad that she's being honoured in this way and that people will hear her story."
Toronto Star